Cool Stuff
Our place for memorable sax sightings...The Rare, The Cool, The Unique.
Another new area on the website. Under Construction and ALWAYS growing.
The Rare, The Cool, The Unique
Our place for memorable sax sightings...
Check out Sarge's Conn alto: "The Girls" on the Virtuoso Deluxe page.
How about a Buescher Tipped Bell Bb Soprano!
Sound File: 1980 Selmer MarkVI, 1920s King Saxello, 1920s Buescher Tipped Bell
1.

SOPRANOS-VI-Saxello_TippedBell

3:26
One of the coolest, custom cases I've ever seen!
Yeah, I kept it for myself. (Alto, Tenor, Flute, gear, stand, mics, storage... zipper-wrapped, double handled, double SHELF!)
Here's an OTTO LINK with a WHITE tooth pad. That's Unique!
vintage Otto Link "Tone Master" 7 Tenor:
Yes, I said the super rare "7" tip!!! (keep in mind that is based on the vintage chart size: = a modern 5* Link size) It arrived in an Original Tip @ 0.085"!!! BUT...it did not play well at all--facing was too long, So after leveling the table, and adjusting the curve start & end, I improved it and had to do a minor reface to 0.086".PLAYS AWESOME! It has a white tooth pad (confusing to me) but it looks original--NEAT!. These can easily demand$900.00+ at a retail listing, but I bet you'll be enticed by this one. Comes with original ligature & cap! Both are worn. "Before" photo to the right. It has a large chamber and a fantastic, vintage Link tone.
Factor in: refacing attention (+$125), silver plate repairs/mouthpiece($82), thin Gold plate ($82)to enhance the vintage look:
Item: WWS4.5S0.0S0.1221.4-0-C60
Sound File:
1.

TenorMPCs-5x-SelmerCstarShortShank-71_ToneMaster7-86_LinkFourStar-RAC87_CoufArtist-88_RunyonIvory-78

6:38
Conn "stubby/shorty" soprano:
These are often seen with early era Conn Wonders, it has the original tip at 0.044", a very large round chamber and is made of hard rubber. plays really nice with a reserved tone(small tip) with nasally attributes. Fun for the quiet player.
sold Item: WWS0.00.8141.1-0
Dukoff "Fluted Chamber 6*" Tenor:
another great Dukoff that is very rare and unique. It plays very nice overall and was refaced by "Marin Spivic" to an easy blowing tip measuring 0.096", Tip and rails look great. It has the medium round chamber with the classic "fluted" walls.Comes with a vintage, metal ligature.
Item: SSPT00.00.1301.3-0-2
Sound File:  Guardala brecker, Berg metal 110-3-M, Berg HR 110-1-M, Ponzol, Dukoff Fluted, King T "RAC"

Vintage silver plated, Selmer Bundy wrap ligature. Adjustable for clarinet, alto...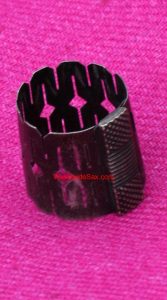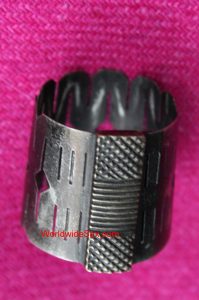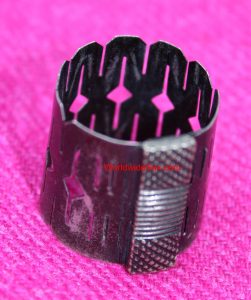 1979 Selmer Price List! Wow!
How about THREE King Super 20 Tenors with Full Pearls.
Serial numbers: 278k, 308k, 325k. All have something different.
(the early one is the most different)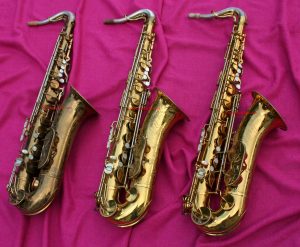 Apparently, even the Berg ligatures had some "offset" stampings happen! I find this quite funny.
"They couldn't even get the ligatures to stamp straight!"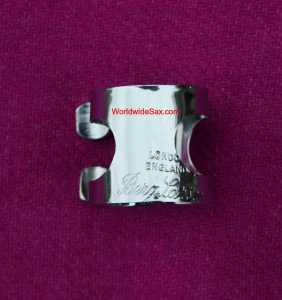 Vintage 1924 BENNE HENTON alto:
Vintage hard rubber from 1924. It has a VERY LARGE Chamber built for Classical music. The ultra-unique beak, with steep duckbill curve, patent number "B I I" and Tip @ 0.066"--Bob Carpenter touched it (it's from his private collection). no ligature currently, ask me.
Benjamin Henton:

Sousa Band Soloist 1919-1920.
The first recorded playing of altissimo on sax in 1911! (info cited here: CLICK )
SOLD
Item:WWS-Bob's Collection
Sarge's ol' LeBlanc Rationale Tenor
.... was a monster player. One of the noticeable things was the neck design! Check this out!
The sax had one of the LOUDEST, ROBUST tones I've ever tried across allof the famous models and eras!
Sound File: TENORs Feat: "LEBLANC": King Super 20-pearls, SML Rev. D, Leblanc System - Rationale
1.

TENORs-52Super20_51SMLrevD_50sLeBlan

5:15