VITO
MARTIN
S.M.L.
(Strasser Marigaux Lemaire)
C.G. Conn
H.Couf
MOUTHPIECES
Dukoff D8, "Miami, FL" Silverite Tenor:  
Another great Dukoff example from the 60s. Metal, rock & roll Loud mouthpieces. These "miami" Dukoffs are preferred. It plays very nice overall. Tip and rails look great, original tip measuring 0.105", baffle is that large step/slope baffle. With original box, ligature and a plastic cap! Item: CP01.99.00.811.1-0-0
Sadly, I SOLD this mouthpiece. I did enjoy it lots while I had it.
Dörfler & Jörka stencil
1959 Arta Guban "Luxor Solo" Tenor...'The Ram':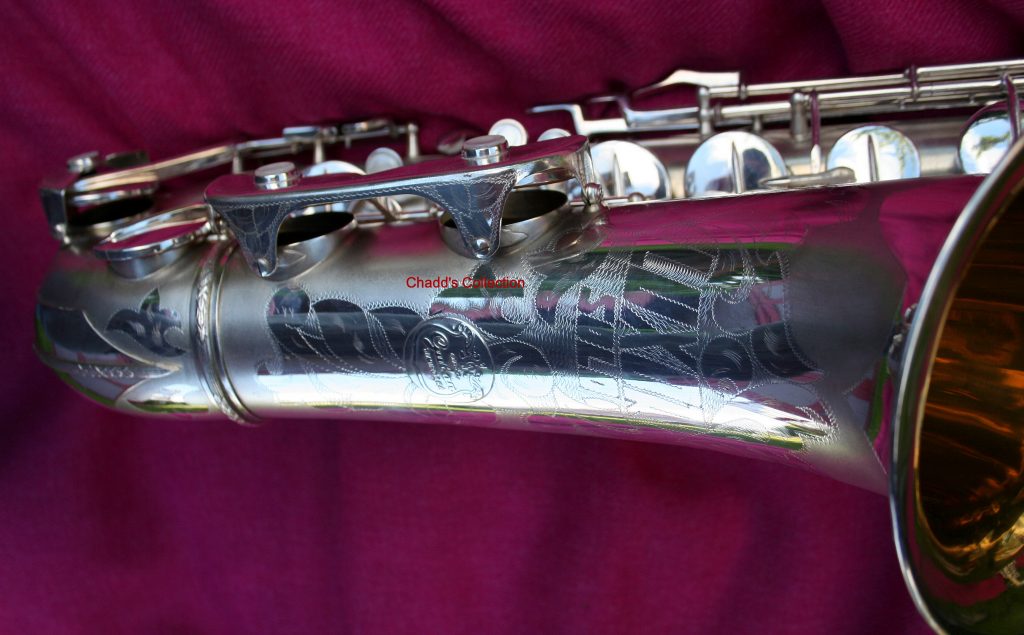 I am really fascinated by this sax. There are so many ornate features!
It has some of the most elaborate tube rings with 3D weave on the bell lip too! The sheet metal octave key on the neck is where she gets her nickname: "The Ram", the pearl bonuses are great--even on the neck screw!, I love the light engraving on the key guards and the G# too, the lucite pants guard like JK or older Kolhert, and the raise bell logo. Serial # 674,142 ballparks the year to 1959, with 99% original satin/shiny Silver Plate with goldwash bell....well, I think the Bell is actually a lacquer judging by the flaking part. I still need to electro test that. It could have been gold but not sticking to the brass (at the lip where it pealed off). I also did spot silver plate 4 small areas that shows some wear. You won't find where. 😉 Many thanks to my friend, Helen, at BassicSax for some info on this. Ironically, it's the exact sax she featured on her blog from many years ago but never in her possession if I recall it correctly.
I don't claim to know this for fact:
The history here is a bit scarce and tricky. From my own brief research, they say these are hit-or-miss saxes.  Talk of Romanian makers, made in Timisoara, Romania to market in Hungry. Just a whole wild bit of cross-country marketing and imports (to germany/Czech?)
The neck support also has the 3D weave!
AND on the under-bell lip, around the bow connections, and on the bow ridge!
She has tan prestini pads and 50% flat metal resos with rivet. The tone is very Czech-ish. Not as bold a Keilwerth but not gross and bright. She has some nice focus and power hidden in her sultry satin finish. Her acoustics hit the Mid-Trebles pretty hard and focused.
For now, my only two complaints are the G# trill key is annoying (likely to get bent to a proper, playable location--lower) and the poor balance of the neck strap. You can see that someone else agreed enough to add and second one...IN THE WRONG SPOT...it needed to be 1.5inches lower. !@#$% I guess I might have to fix that in time also.
THE BAD: The only thing that I have run into is very bad A2--poor venting, air travel. The A2 comes out better/clearer WITHOUT the octave trigger. So that stinks.
1950s Arta Guban "Luxor Solo" ALTO:
I had already acquired my Luxor Solo tenor when I saw this sax show up For Sale a year later--I had to have it! Now I have a set! This alto is not in the matte finish, and it does have a different engraving setup. But overall they are very much the same with the ornate parts throughout.
***I did check to see if the A2 had an issue like the tenor. Fortunately, it doesn't!
It also appears that they were manufactured with lacquer in the bell (not gold). Probably a cost cutting measure.
These are my Arrival photos from my phone. So I'll have to get a photo shoot for this one. Perhaps after the rebuild! The original white pads make me consider doing them for the rebuild! BUT, until then, I won't mind putting this out on display and allowing some tarnishing since I'll have to get in there an clean her up nice in the future.
1950 Otto Link, no USA, Double band, NEW YORK, 5 < 6** Tenor:  
It needed Bob C reface/repair, This is another great Link that had been tampered with. Ser# 154, ultra-rare NEW YORK double band! This is before they moved to Florida, extra long biteplate. Bob was able to save it then he gold plated the repairs to seal it and the mouthpiece. The original plating was wearing too thin so, although we love to leave these as original as possible, in this case we had to seal it to protect them (ligature and mouthpiece).  Bob Carpenter reface, now a beautiful 0.097" or a Link 6** size. You know it's good when Bob takes it to the next gig, the whole gig, and THEN tells me how nice it played. haha. It plays excellent with a traditional smoky tone. With the vintage ligature!
Item #: WWS4.0S0.0S0.5171.3-B75
Selmer "Classic", metal Airflow C* tenor:  
Another great Selmer mpc from the 1950s. Metal, Sultry and focused sound. It plays very nice overall. Tips and rails look great, original tip measuring 0.077". ROUNDED chamber (not the Horseshoe) makes this the rarer, and more desired Classic model. Note: The shank is a large fit for neck corks. Clear tooth guard installed. With original ligature AND a metal RARE sliding cap. SOLD Item: CP000.00.00.10161.2-0-0
Berg Larsen 110-3-M "Very Vintage" Tenor:
This is a stainless steel, metal mouthpiece with a butt-kicking original 0.100" tip size. you can see vertical, denim table marks and the short short shank. Real fat tone, it's the duckbill + bullet chamber model. Although pitted, "it's a Berg, baby!" Comes with modern nickel Berg ligature with the round, gripped screws, and cap (not the brass original setup). An excellent blower and I really like this one! SOLD Item: WWS00.1301.3-0-7
Sound File:  Guardala brecker, Berg metal 110-3-M, Berg HR 110-1-M, Ponzol, Dukoff Fluted, King T "RAC"

vintage Otto Link "Tone Master" 7 Tenor: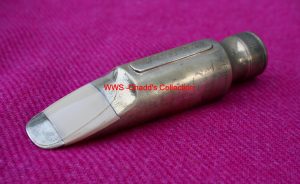 yes, I said the super rare "7" tip!!! (keep in mind that is based on the vintage chart size: = a modern 5* Link size) It arrived in an Original Tip @ 0.085"!!! BUT...it did not play well at all--facing was too long, So after leveling the table, and adjusting the curve start & end, I improved it and had to do a minor reface to 0.086".PLAYS AWESOME! It has a white tooth pad (confusing to me) but it looks original--NEAT!. These can easily demand$900.00+ at a retail listing, but I bet you'll be enticed by this one. Comes with original ligature & cap! Both are worn. "Before" photo to the right. It has a large chamber and a fantastic, vintage Link tone.
Factor in: refacing attention (+$125), silver plate repairs/mouthpiece($82), thin Gold plate ($82)to enhance the vintage look:
(SOLD in 2016) Item: WWSL4.5S0.0S0.1221.4-0-C60
1.

TenorMPCs-5x-SelmerCstarShortShank-71_ToneMaster7-86_LinkFourStar-RAC87_CoufArtist-88_RunyonIvory-78

6:38
Brilhart Tonalin 7 tenor: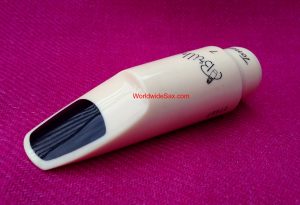 a super rare tip size! Ser#27407 with script in beautiful condition. FIVE DIGIT SERIAL NUMBER! This one plays really nice with decent focus for a Tonalin but a little extra power with the "7" tip. I'm biased, but I love these. A bolder, smooth Stan Getz-type sound. Original Tip size at 0.095", no tooth grooves!
Item:WWS2.75.2201.4-0
Brilhart Tonalin 5* tenor:
( my baby ) 
(I did enhance the black script between the two photos)
Sarge's words: "That's the darn best playin' Tonalin I've ever played." (and we compared two in his collection)
This one is My Baby. I use it with the vintage three-band, gold plated (worn) Brilhart/King ligature.  I've probably played this around the shop on 90% of the Sound Files and it's my go-to mouthpiece for softer, controlled jazz, or when I want to mimic Stan Getz in tone and fluff. I intend to never sell this one. Sarge and I played it compared to 3 of his Tonalins and this one outplayed all of them.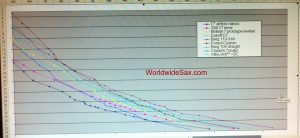 Ser#207829 with script mostly faded, oh well. This one plays really nice with decent focus but doesn't blow the doors down with power. It is a sultry master. I'm biased, but I love these. Original Tip size at 0.085".
I have even graphed the facing curve on this one should I ever need to copy it!--knock on wood... It has a super short facing length! (see graph above)
Dukoff brass "Stubby" 7 tenor: 
Super super rare, 1940s, with the original tip and ligature.(I'll be hunting for a cap)
It arrived at Original 0.100" in the Tip. However a small bump was damaging the seal. I repaired that with a very minor reface and it now measures 0.101". (Photos were 'before' the repair)
It has a Large chamber and is a very smoky player. Mmm Mmm ... this one is an awesome mouthpiece that I hope you don't actually buy. Once you try it, you'll be like me and stash it!
  Steel Ebonite "Chester Hazlett", hard rubber TENOR:
Another rare mouthpiece listed, it was named after the saxophonist in the Whiteman Orchestra of the 30s and 40s.  Terrific material and good classic design...very similar to "The Woodwind Co." models...  Large chamber makes for a big vintage sound. But also more suitable for Concert Bands and jazz alike. Bob Carpenter just opened this one up to a easy blowing 0.090" with a 21mm facing length and inscribed the his "RAC 90-21" on the table(sign of Bob's heartfelt workmanship again). The crystallized yellow band IS original! sorry, no ligature.
This has a great mellowness to the tone and blows Outstandingly easy! I REALLY wanted to keep this one when I got it back from Bob.  It plays so much like my Tonalin 5 (I use on most sound files) that it must be an Alto player's delight at that 0.090" tip.  = plays like butter! Item: WWS00.00.531.2-0-5B50
***WILD STORY: I did sell this mouthpiece and I was on good terms with the buyer in Germany who sold it back to me! = me Happy!
Item: WWS02.1S0.3111.4-0-0
Steel Ebonite "Chester Hazlett", hard rubber ALTO:

MATCHING SET!!!
I Just got this one back from Bob Carpenter. It's now an "RAC" stamped mouthpiece with a "85 - 20" facing. Tip @ 0.085, 20mm facing length.
Item: WWS4E1.0E0.3261.4-0B40
ALTO Mouthpieces:
...coming soon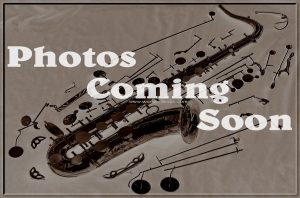 ~Otto Link "4**** Master" model, Bob opened the tip, ~067"
~Very Vintage 1940s Berg Larsen stainless steel, duckbill
~Rousseau Jazz, gold plated 5(?), "V" baffle design
~Selmer s80 C* (my first mouthpiece new in 2001)
~Strathon 5(?)[adjustable baffle], with original ligature
~Brilhart Tonalin Great Neck 4* !!!
...Toys...
CHADD's SHOP MOUTHPIECE
"Woodwind" hard rubber alto (G5):

Terrific material and good classic design.  Larger chamber makes for a big vintage sound.  reminds me of a slant signature sound. Bob Carpenter just opened this one up to a easy blowing 0.075"; also had Bob put the metal band on the shank to repair a crack and save this great mpc.

249.00 Need a hook? This one is my Bench Mpc. 😉 That should tell you something. I don't know if I can sell this one anymore!

Item: WWS.CP-B35

1.

ALTOMPCSBrilhartLA5-Woodwind-D7

1:10

2.

ALTOS-VI_TMA_aristo1

1:47

3.

ALTOs4x-RANDOM_Dolnet_SDA72_TMA47_Ze

4:45

Sound File 2 : Selmer Mark VI, The Martin Alto, Buescher "The Aristocrat" series 1

Sound File 3 : ALTOs x 4 "Blind"on this mouthpiece: Random order: Dolnet Series-II, 1956 King Zephyr, 1972 Buffet "Super DynAction", 1947 "The Martin Alto"
Other TENOR Mouthpieces:
...coming soon
~Runyon chrome, tip 9!
~1980s Selmer long scroll, silver plated metal, C* became Bob Carpenter Custom.
~Selmer s80 C* rubber (my first tenor mouthpiece new in 2002)
...Toys...
I hope you enjoyed looking at my collection.
Cheers, Chadd
(Some of these are sold. Some are for sale.  Some will be for sale eventually. Some will not be for sale.)