1964 Buffet Super Dynaction (SDA) Tenor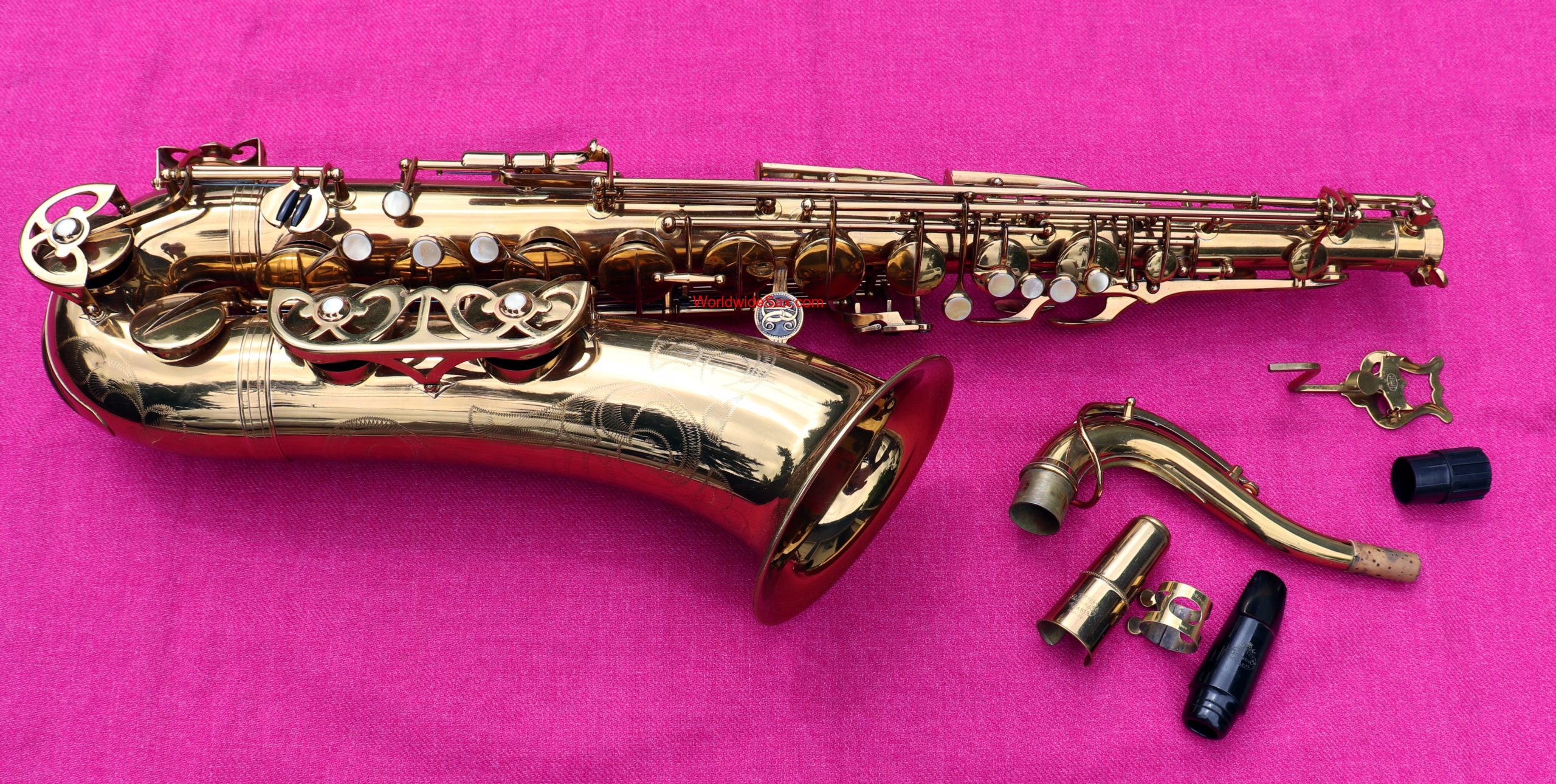 Year:  1964
Make:  Buffet
Model:  Super Dynaction (SDA)
Status:  SOLD
Finish:  Original Lacquer
Serial Number: 10,852
(On Consignment - plays good on original pads!)
Original Lacquer at about 95%+, this SDA is listed with WWS from the original owner/family. It's a "one-owner" horn that was purchased new and used for only 3 years. It has been in the case for 50+ years! This is sax has two unique traits as well: the "Super Dynaction" font is from the early era with more straight, blocky-ness to the design; also the neck angle is very unique and have a flatter design overall and an upward tilt. there is no evidence of neck damage or repairs to explain this. ***flatter neck designs are associated with a cleaner, free blowing sound that often produces more volume and punch. See SML rev D/Gold Medal, and the exaggerated concept with Conn C-Melodies from the 1920s -- and the flatter, 'alto style' necks are better playing instruments.
Buffet Super Dynaction saxes are French in design and smooth in action, and also heavy in build - built like tanks! These are strongly linked to the Selmer (French) Mark VI tone and usually are ranked #2 most like it. A common ergonomic mention is the limited space on the right hand in the 'airspace' about the pearls - but technically speaking, you aren't supposed to lift your fingers more than needed anyway.
PADS: The pads are original and are in excellent condition for that fact. But the upper palm keys show the most moisture wear as is expected. At nearly 50years old, the pads are that: "Old". I was able to force a low Bb note out, I sense at least a small adjustment needed somewhere on the sax.
CASE: Comes with a original Buffet hard case with at least 1 key!
BONUS: Original mouthpiece, ligature and cap; also the French lyre.
Sound Files on Buffet SDA's to enjoy,
Actual sax on track 1

:
1.

TENORS-1931-Martin-Typewriter-101k_vs_1960-Keilwerth-The-New-King-63k_vs_1964-Buffet-SDA-10k-on-Meyer-8-mpc-Sound-File-11-2021

4:06

2.

Tenors_3x-Buffet-Super-Dynaction(SDA)14k_JK-Buffet-Expression-98k_Couf-Superba-1-98k_on-Brilhart-BergLarsen105-2-SMS, woodgrain, Sound File-5-2017

3:40

3.

Tenors_3x-Buffet-Super-Dynaction(SDA)14k_JK-Buffet-Expression-98k_Couf-Superba-1-98k_on-Brilhart-Tonalin-5-085, Sound File-5-2017

3:09

4.

TENORs file: French Set: Selmer Mark VI vs. Buffet Super Dynaction (SDA) vs. SML Gold Medal - COMPARISON OF 3 FRENCH MADE TENORS

2:09

5.

TENORs-VI_BA_SDA

3:11

6.

TENORs-SDA_Magna_41Zephyr

2:15
Item#: WWSConRJ20W0.0W0.07132.0-C0