1963 Selmer Mark VI Alto, #106k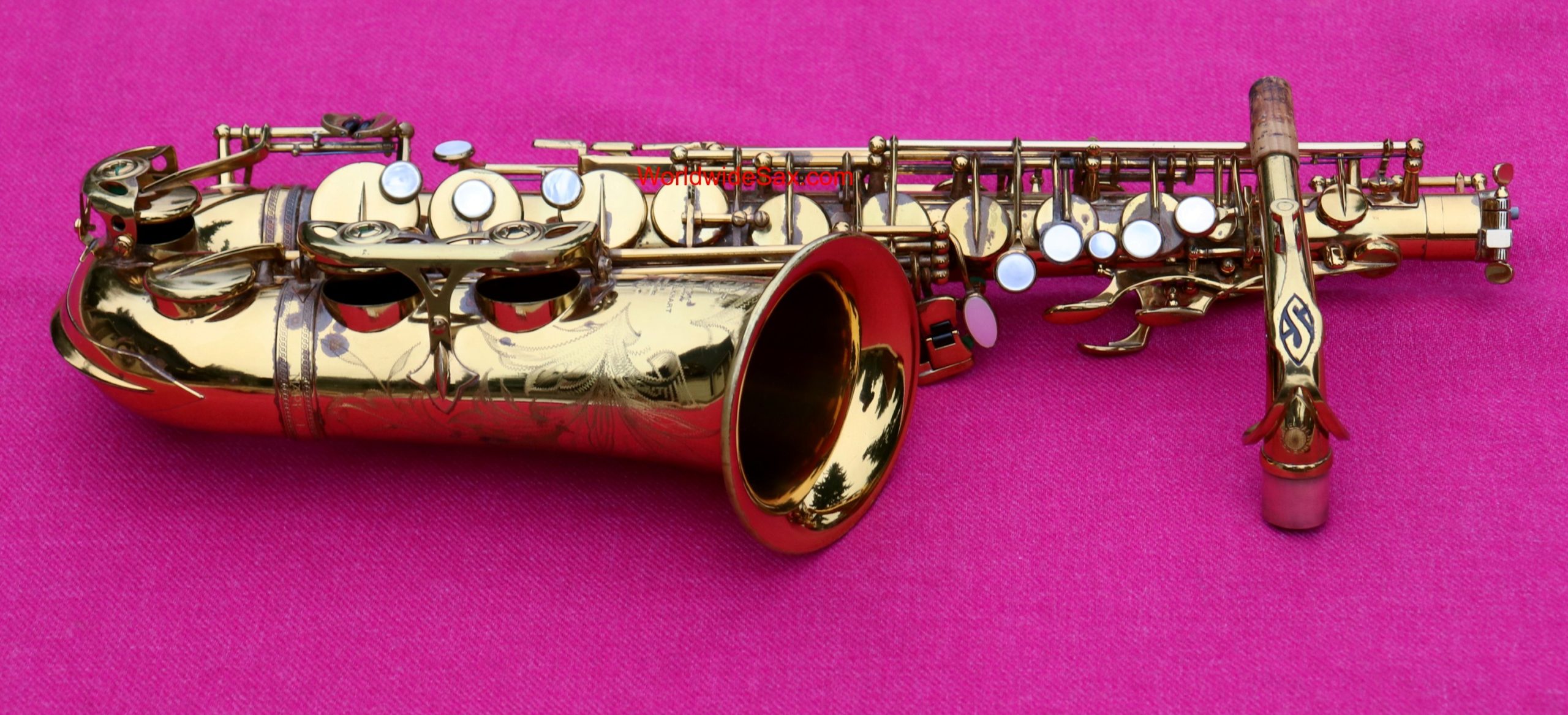 Price: SOLD
Year:  1962-63
Make:  Selmer
Model:  Mark VI
Status:  SOLD
Finish:  Lacquer 70%
Serial Number: 106,37x
(On Consignment)
Fantastic era Selmer Mark VI with the black ink on the neck logo; I have two conflicting charts on dating, 1) from a Selmer rep in the Frank Sinatra era dating this to 1962 and some common, more popular charting that puts it in 1963. I've enjoyed a few saxes in the #100-110k era; I have to tell you that this is the sweet spot to save $2,000-6,000 instead of having to buy a 5-digit era.
Cosmetically this one is a mixed review. The sax was well loved and cared for without major damage to report. The metal is straight looks excellent. I find NO Re-solders, 4-5 pings and only one larger ding-dent (two of these by the low C#, and I worked on removing them after these photos; the others are on the backside bow toward the bell). There is also some interior tube discoloration that could use a good cleaning also - not photoed.
However, the discoloration that you see is more to do with moisture in the environment or poor cleaning from the factory prior to lacquering it. I am selling this for the original owner and this sax has lived its entire life here in the Washington State area (not a place I normally credit to seeing red brass rust or discoloration under the lacquer). The color being under the lacquer in many spots points me towards the factory as the case of this.
PADS:  Tan pads, nylon resos. The age of pads is from 2-3 eras, and some are the original pads.
CASE: Vintage Selmer hard case, original.
Sound Files on Mark VIs to enjoy:
1.

ALTOsBlind - VI-THC-ZephyrSpecial-Co

5:12

2.

ALTOs-101kVI_SDA_Superba1_THC

4:02

3.

ALTOs-VI-BA-SDA-customZ

3:51

4.

1:20

5.

ALTOs File: Sarge & Chadd playing hot... 5-Digit Selmer mark vi, vs. a #411k King Super 20, vs a Conn 6M (RTH), Sound File 2010

1:45

6.

2:20

7.

1:43

8.

ALTOS-VI_TMA_aristo1

1:47

9.

ALTOS, SBA_VI_SDA

1:53

10.

ALTOs-B400_TMA_Vi101k

4:48

11.

ALTO-vi,super20,26M

1:51
Item#:WWSCONTL-5W51.0W0.00.01182.2-C0