1973 Selmer 'Mark VI' Tenor, #216k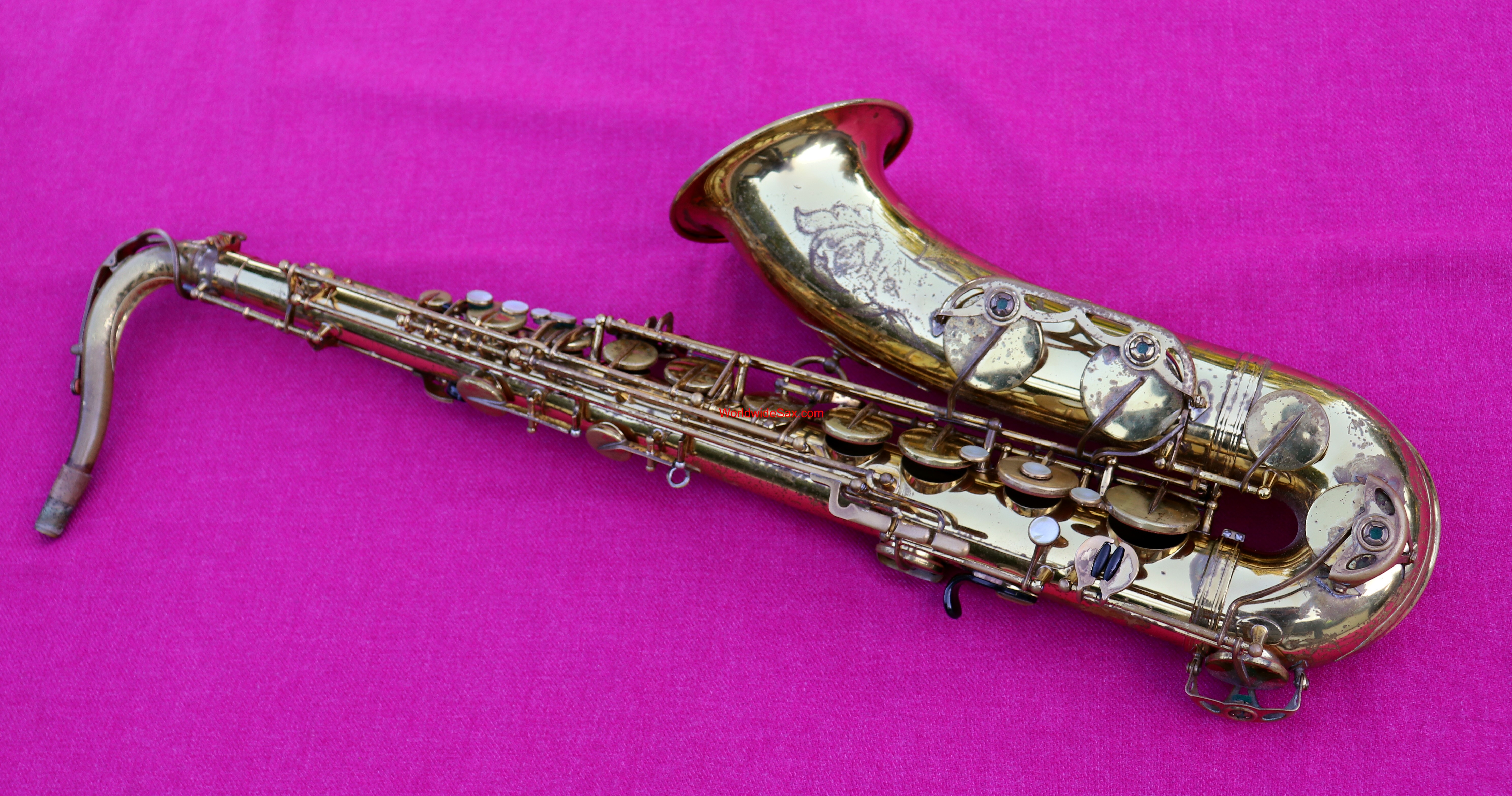 Year:  1973
Make:  Selmer
Model:  Mark VI
Status:  For Sale!
Finish:  Original
Serial Number: 216,205
(Consignment Listing - Plays Great after minor WWS tuneup - Just Ask)
A true "player's horn" for a player - A beloved horn, owned by the late musician, Jim Coile, of the Seattle area who played with huge names like: Tom Petty, Sonando, Natalie Cole, Franky Valley, ...etc. If this caliber of player chose this sax, that's usually all I need. (More info about Jim is below, scroll down)
It has mild signs of damage - dings and pings included, and some of these I'll work on included in the price (small ding removal, re-round bell ring brace). There are a few resolders to its history and all of them look professional and intact.
This sax is one a of a few instruments the Jim played on through his career.
FINISH: Original - it was loved enough, yet earned some wear through the use. I'll let the photos tell the story. There is some of the brown cloudiness showing up. This does happen to saxes in this era. It is not something to worry about in regards to corrosion etc.
PADS: They are tan pads with metal, domed resonators with lots of life left.
CASE: a thick Reunion Blues gig bag.
See Track 1 below to hear these 4 saxes in a Sound File:

Sound files of Mark VIs to enjoy:
TRACK 1 = Actual Sax!
1.

TENORs-x4-BLIND-Selmer-Mark-VI-216k-Conn-10m-556k-Buffet-SDA-18k-BS-Medusa-BN-on-Morgan-Excalibur-106-Sound-File-10-2019

2.

TENORs-3x--Selmer SBA 53k, Selmer Mark VI 108k, Conn 10M 295k on a 1960s Dukoff D8 nickel-plated brass

2:37

3.

TENORs-x4-VI,Zphr,Super20,DG500

2:57

4.

Tenors file: Selmer Mark VI vs Couf Superba1 vs Conn 30M , Sound File 10-2011:

2:44

5.

TENORSx3-2xMPCS-MarkVi_30M_SMLrevD-- 1

3:57

6.

STE-043Tenors-VI,Silvertone,10M

1:59

7.

2:00

8.

TO EDIT TENORSx2-3MPCS-MarkVi_GOLDNe

4:40

9.

TO EDIT TENORSx2-3MPCS-MarkVi_GOLDNe

4:40

10.

STE-043Tenor-Vi,TK,TMT

1:38

11.

TENORs-SelmerVIs-135kLACQ_103kSILVER

5:09

12.

TENOR-selmerVI,83Kvs155K

1:58

13.

TENORs file: French Set: Selmer Mark VI vs. Buffet Super Dynaction (SDA) vs. SML Gold Medal - COMPARISON OF 3 FRENCH MADE TENORS

2:09

14.

2:40

15.

2:23
Item#:WWSConMC4W8.8W8.09271.9-C0
For more information on Jim Coile, we offer the following info from his family, estate, and community. He made music for his entire life and WWS knows that this sax will continue on giving more music the world.
Here's a touching tribute from KNKX.org, our local Northwest Jazz public radio:
https://www.knkx.org/post/jazz-caliente-remembering-sonandos-jim-coile
Here's Jim playing flute in a session with this sax nearby:
---
Here's a list of some of the song credits Jim played on (some of other saxophones):
From: https://www.allmusic.com/artist/jim-coile-mn0000651438, here's the list:
Credits
(1-54 of 54)
| Year | Album | Artist | |
| --- | --- | --- | --- |
| 2018 | An American Treasure | Tom Petty | Horn |
| 2012 | Double Exposure | Frank D'Rone | Saxophone |
| 2011 | The Classic Albums Collection 1974-1983 | Kansas | Sax (Tenor) |
| 2009 | Ballet of the Bouncing Beagles | Phil Kelly | Sax (Tenor) |
| 2007 | I Know Nothing | Dean Schmidt | Main Personnel, Sax (Tenor) |
| 2006 | Tres | Sonando | Member of Attributed Artist, Flute, Sax (Tenor) |
| 2003 | Convergence Zone | Phil Kelly & the NW Prevailing Winds | Woodwind, Saxophone, Soloist |
| 2003 | The Very Best of War | War | Saxophone |
| 2002 | Side Effect/What You Need | Side Effect | Saxophone |
| 2001 | Plays the Arrangements of Gaylord Jones | Charlie May | Sax (Tenor) |
| 1999 | Above & Beyond | Kathi McDonald | Horn |
| 1999 | Damn the Torpedoes/Southern Accents/Into the Great Wide Open | Tom Petty / Tom Petty & the Heartbreakers | Sax (Tenor), Sound Effects, Vocals (Background) |
| 1999 | Laisse-La Vivre | Véronique Sanson | Sax (Tenor) |
| 1998 | Red Kelley's Heroes | Pete Christlieb | Flute, Sax (Tenor) |
| 1995 | Feel Your Dream | Roland Vazquez | Sax (Tenor) |
| 1995 | Playback | Tom Petty / Tom Petty & the Heartbreakers | Horn |
| 1994 | The Best of the L.A. Jazz Ensemble | Roland Vazquez | Sax (Tenor) |
| 1992 | Plays the Music of Steely Dan | Hoops McCann Band | Sax (Soprano), Sax (Tenor) |
| 1985 | Porky's Revenge! | | Horn Section |
| 1985 | Southern Accents | Tom Petty / Tom Petty & the Heartbreakers | Sax (Tenor), Horn, Sound Effects, Vocals (Background) |
| 1984 | Playin' It Cool | Timothy B. Schmit | Saxophone, Sax (Tenor) |
| 1983 | On My Own Two Feet | Paul Barrére | Horn |
| 1982 | Cardiac Party | Jack Mack & The Heart Attack | Flute, Saxophone, Sax (Tenor) |
| 1982 | No Fun Aloud | Glenn Frey | Saxophone |
| 1982 | Right Here and Now | Bill Medley | Saxophone |
| 1982 | Vinyl Confessions | Kansas | Saxophone, Sax (Tenor) |
| 1979 | Bobo | Willie Bobo | Flute, Sax (Soprano), Sax (Tenor) |
| 1979 | Urban Ensemble | Roland Vazquez | Sax (Tenor) |
| 1978 | Dance a Little Light | Richie Furay | Saxophone |
| 1978 | Gale Force | Gale Force | Horn |
| 1977 | Live at Montreux | Don Ellis | Flute, Clarinet, Sax (Tenor) |
| 1977 | Music from Other Galaxies and Planets | Don Ellis | Saxophone, Wind |
| | Something If Nothing Else | Milt Kleeb / Milt Kleeb Dectet | Sax (Tenor) |
---
The above list may be cross-referenced with this other Credits account: