1930 GOLD Conn - New Wonder II "Chu Berry" Alto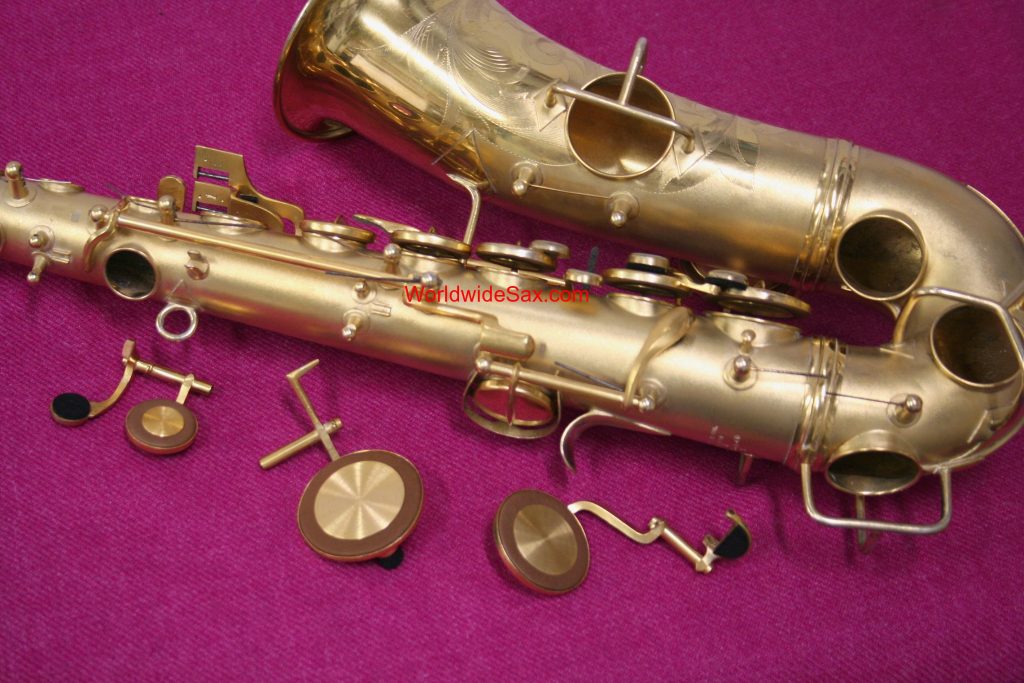 We installed custom, over-sized, Gold-plated solid sterling silver Resotech resonators with chocolate roo pads.
Year: 1930
Make: Conn
Model: New Wonder II " Chu Berry"
Status: SOLD
Finish: Original Gold Plate
Serial Number: 234,6xx
(WWS Custom Rebuild)
Ser.# m234,xxx dates to 1930.  Excellent condition "Chu" with nailfile G#, rolled tone holes, tuning neck, everything we love.  Original gold plate and Satin gold highlights model, in very nice overall condition.  There is 1 heavy mark inside the bell that is worn down to the silver. It is photoed.
Now, if you've never played a Chu, they are stunningly powerful altos...big fat sound top to bottom.  Ergos are not that great, but I  know a lot of players that play them in spite of the 20's design and would never switch to a Selmer.
Sax had clear lacquer over the gold and during the rebuild, WWS stripped it off to uncover the protected gold plating underneath. Also the springs were modified in history to have has installed screw-in, Gold Buescher Norton springs! wow. that's unique. They show some again but that's to be expected. There are no set screws on this sax currently.
REBUILD: It has a custom rebuild with Brown Chocolate Kangaroo Pads ($$$), and Gold plated (over silver) custom over-oversized Resotech resos (Flat, with matte spun finish, $$$). Rebuilt in 10-2017, the sax has less than 10 hours of playing time on it (the original client was a tenor player mostly).
CASE: A like-new Protec XL. ($180+)
TONE: ***THIS IS A LOUD ALTO SAX!*** The resos are maxed out! Like seriously, you will get heard in a pep band as a solo sax! But if you want to come back to other bands, you may need a mouthpiece that is so subtle and soft that it compliments the resos that have kick.    (I will have to make a Sound File of this one)
So run your values on this one and you'll see the package deal we've put together:
~ $380+ for Roo Pads & Resos
~ WWS rebuild ($999) + lacquer stripping($$$)
~ Like-New Protec XL case ($180+) (light use)
~ Gold Sax, Gold Resos, Gold Norton Springs
Sound Files to enjoy other Chu Altos...
     NOTE: 

this

custom alto needs its own Sound File to fully understand what this rebuild did to the tone
1.

2:13

2.

ALTOs-'50THC333k,'47TMA163k,'31Chu24

4:20

3.

ALTOs-Chu_NewKing_Dolnet

0:49

4.

ALTO_ConnSet-Wonder-Chu-6M

1:43
Item #: WWS1ES5.7ES9.82.07091.9-C1017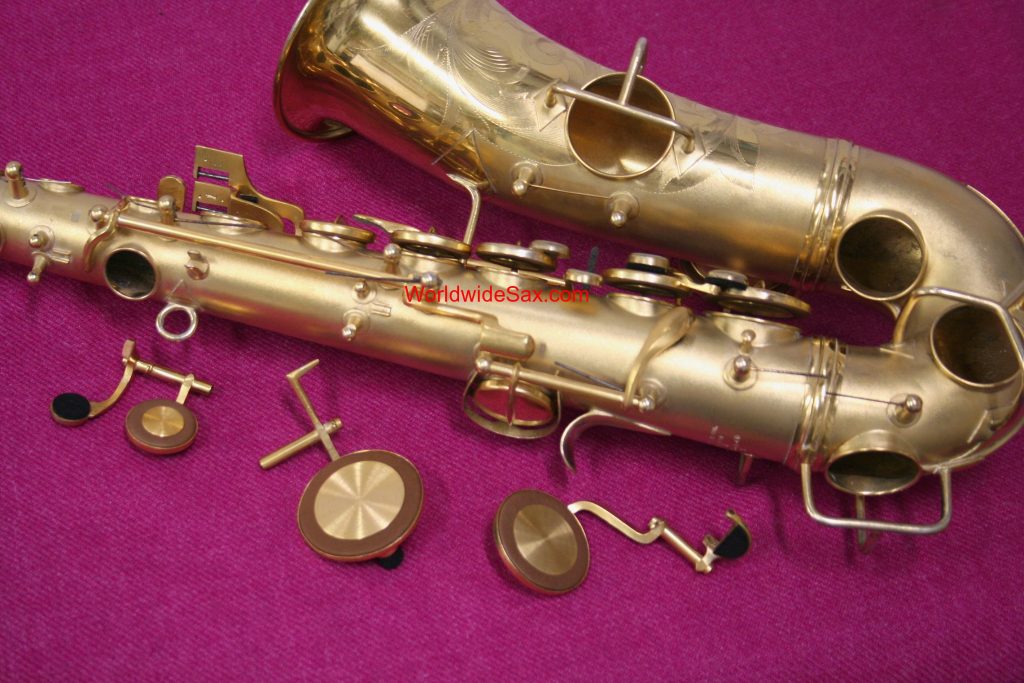 (Below) Before/During Rebuild Photos: