1963 Keilwerth "The New King" Tenor
Black Nickel & Gold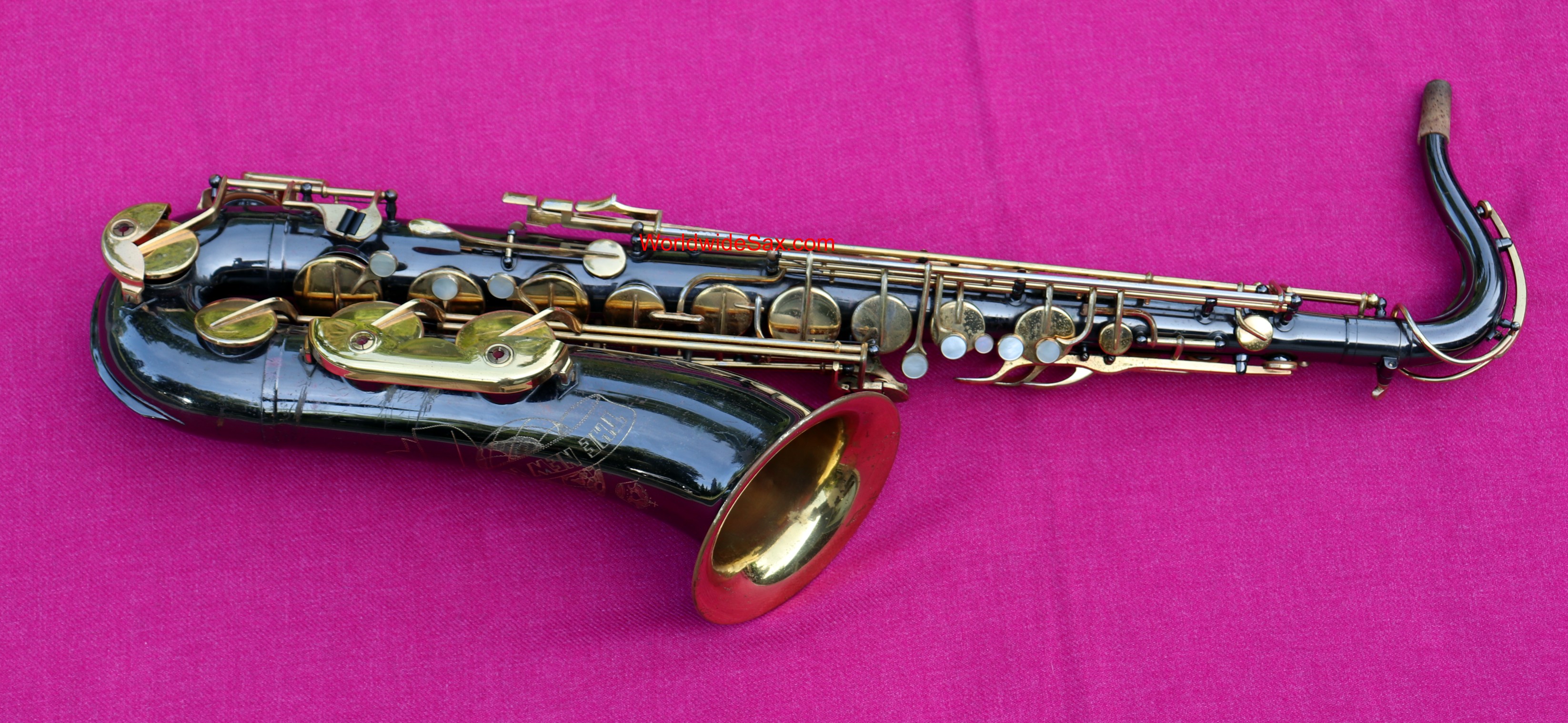 Year:  1963
Make:  Julius Keilwerth
Model:  The New King
Status:  SOLD
Finish:  Original, nickel & gold
Serial Number: 47,797
***#1) I am biased and love JK saxes and play on a black nickel + gold keys Couf. So you know I want to keep this older cousin! 
Here is a very early example of black nickel plating! Wow - it is the oldest serial number of such finish that I've got my hands on and I really want to keep this one.  (I verified the early black nickel finish & serial number recently with Peter Ponzol who also agreed: [this is the oldest serial number with this finish to his knowledge also].) It has rolled tone holes, the "JK" tube stamp, solid sheet guards, and the early era pearls (normal sized, not the huge JK ones we know know). Serial number #47k matches on the neck and body. No high F# on this model, but that's what front F is for! For such a pretty sax, it has a sneaky repair to be done during a rebuild because the body tube did take some misalignment, it was contained to effecting the top stack only; we have tools & patience for that.  There are a few small dings and pings but not much. There was some wear on the Eb guard that was hard to see in the photo; you can see some of the under silver plating (Actually I think it was a form of nickel, info TBD). A little black wear on the rear body tube.
***Oldest/first known serial number of Black Nickel finish for Keilwerth!*** This info is also based on the verification from a phone chat with Peter Ponzol(who worked with and designed saxes for Keilwerth) as he pursued how to acquire it.
TONE: Keilwerth tone: warmer, rounder, more spread, full of harmonics. See the Sound Files below.
PADS: It arrived with the current pad set up as tan pads with plastic domed resos and those have been updated from the metal resos that would have been original. REBUILD: We will rebuild it, align metal rods-tube-posts and put new pads and corks, along with a bath and some polishing love. Please help me choose the rebuild specs to your desires. Black pads?! Upgraded Resos? (That is what my Couf has: black pads $100, silver ResoTech resos $250)
CASE: Upgraded, New Protec ProPac XL case ($259.00). It is a molded hard case with storage and shoulder strap.
Sound Files on various JK models (& Couf):
Track 1: Actual Sax featured!
Keilwerth tone: warmer, rounder, more spread, full of harmonics...
1.

TENORs-4xKeilwerths- The New King #47k, Tone King #55k, Tone King Special #53k, Couf Superba 1 #79k - MPC Berg108-2-SMS - Sound File 6-2020

2.

TENORs-4x_Conn Chu New Wonder II #243k, Keilwerth Tone King #37k-Plastic wF#, The Martin Tenor #166k, Conn 10M #H42k, on an early Berg 105 boat tail, Sound File 10-2017

6:45

3.

STE-043Tenor-Vi,TK,TMT

1:38

4.

TENOR-S20FP_kingSS_CoufS1Blackie

2:48

5.

Tenors_3x-Buffet-Super-Dynaction(SDA)14k_JK-Buffet-Expression-98k_Couf-Superba-1-98k_on-Brilhart-BergLarsen105-2-SMS, woodgrain, Sound File-5-2017

3:40

6.

Tenors_3x-Buffet-Super-Dynaction(SDA)14k_JK-Buffet-Expression-98k_Couf-Superba-1-98k_on-Brilhart-Tonalin-5-085, Sound File-5-2017

3:09

7.

STE-043Tenors-VI,Silvertone,10M

1:59
Item#:WWS1S0.0S0.04221.9-C0