1951 Silver "The Martin Tenor"
BEFORE PHOTOS:
Year:  1951
Make:  Martin
Model: "The Martin Tenor"
Status:  SOLD
Finish: Original Silver Body, Nickel keys
Serial Number: 178,40x Body & 184k Neck
WWS Name: "Lieutenant Dan"
A rare, original Silver "The Martin Tenor" with the "U.S." military stamp on the bell. The serial #178k on the body dates it to 1951. It is common to see these saxes with signs of wear and use as the band worked hard. It has 80% Silver present and 70% Nickel on the keys(this is not the first US silver Martin that I've seen this plating combo).
WWS Research Note: I had a The Martin Alto "US" that also had nickel plated keys. This recurring find leads me to suspect that the military expected the instruments to have the prim-and-proper look, aka silver & shiny, which would have worn off the keys with the constant use. It is a WWS hypothesis that the military would require silver instruments to be replated using Nickel when possible.
It will be a great sax once it gets a full rebuild, repairs and cleaned up. There are some bumps from the "war" of playing and we will address them during the work. The sax will need me to address a bell-to-body brace dent, inspect tone hole seals, inspect the neck screw replacement, be treated with chemical cleaning to sterilize odors etc, as well as install 2-4 missing screws (that I have).
CASE: It arrived with an original case that did not survive storage (or a war!). It will get a New Protec XL ($$$) to keep it properly protected.
REBUILD: We are planning to offer this sax with a full rebuild and you can help choose those options (pad type, reso type, etc) included in the listing price.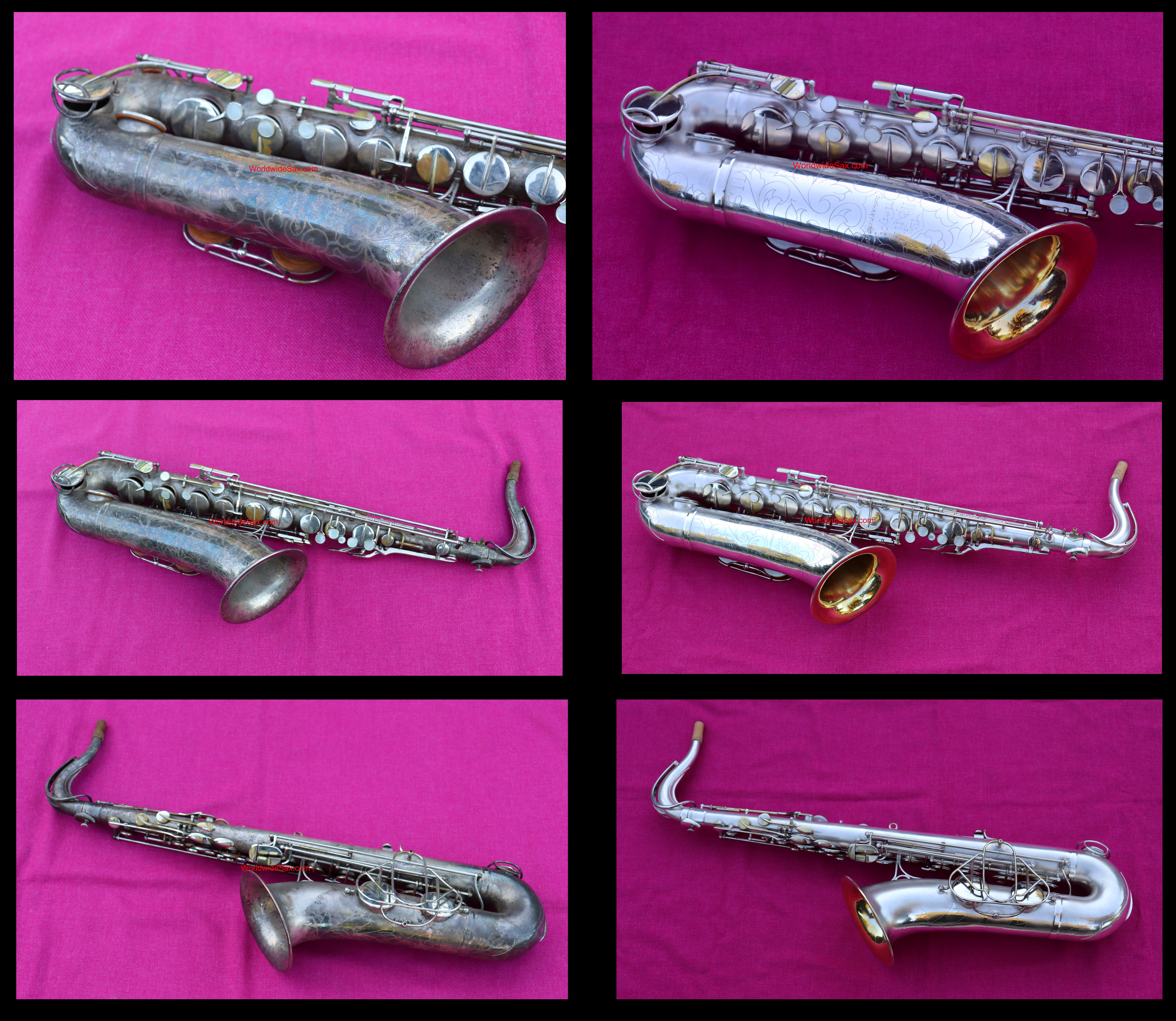 Martin Sound Files for you to enjoy:
1.

TENORs-4x_Conn Chu New Wonder II #243k, Keilwerth Tone King #37k-Plastic wF#, The Martin Tenor #166k, Conn 10M #H42k, on an early Berg 105 boat tail, Sound File 10-2017

6:45

2.

2:22

3.

TENORs-TheMARTINx4_164korig(blackRoos,seamlessflatnickelResos)_166krelac(TanPads,domedBrassResos)_210kMagna(TanPads,flatNickelResos)_218kOfficialMusicMan(silverResoTech)

7:16

4.

Tenors file: Selmer MKVI vs. Martin Comm 2 vs. Martin Comm 3

1:37

5.

TENORx2-MPCx2--VIvsTMT, D7vs4starOtt

2:45

6.

STE-043Tenor-Vi,TK,TMT

1:38
Item #:WWS06PU.7PU6.10081.9-C0