Theo Wanne GAIA, Model 3 Tenor
Price: SOLD
(Comes with all original packaging.)
Make: Theo Wanne
Model: Gaia 3, Rhodium
Number:  7*
Era:  2019~
Status: SOLD
Ligature: Original
Facing: Original
Tip-Size: 0.105"
Truly a Dexter Gordon tone (otto link) but with a supercharger as an option...
Looking for an investment piece? - Consider the rare, RHODIUM PLATED option. These are n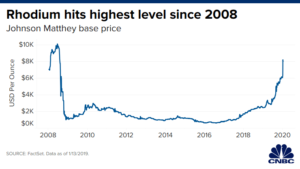 ow discontinued due to market prices on Rhodium going up sharply since a stabilized 2008. What used to cost $25 as a plating option for these Wanne mouthpieces in 2009 (according to JazzTimes.com archive), inflates to a new cost that is no longer offered from Theo Wanne Mouthpieces. From market prices about $1,600 per ounce in 2009, the current trading prices on February 14, 2020 are $11,500 per ounce!!! Or two to three times the price of gold. From a supplier pricing, the plating service pricing level just jumped 400% just this 2019-2020 level (not accounting for inflation and increases on the 2009 $25 cost).
3-3-2021 UPDATE: Rhodium metal value now $26,490 an ounce! (2009 = $1,600; 2019 peaked at only $12,940). See more HERE
Rhodium itself it a harder, more durable metal that is rarer than gold. You can consider a gold Gaia option at $750.
Needless to say, WWS scooped up a few of these models to hoard/steward until you desire them.
Current retail description via WWBW.com:
"Full, rich traditional sound with a big projection and plenty of edge.
The GAIA 3 has evolved into work of art and is now the most technically advanced mouthpiece Theo has ever made. And not just because of the Shark Gill™ baffle—the entire design is filled with proprietary design elements.
It takes the huge and free sound the GAIA 1 or 2 mouthpiece have become famous for to a whole new level. It has greatly increased projection, flexibility and freedom of expression.
The GAIA 3 lends itself well to a traditional Jazz taste, but due to its amazing flexibility, it is at home in any style of playing. It comes in 24K gold plate or a unique thin-body premium hard rubber, which has amazing vibratory qualities.
The GAIA 3 has a medium roll-over Shark Gill™ baffle, precision-sculpted inner sidewalls, and the True-Large-Chamber, which is similar to the vintage mouthpieces of the 1940s, but more evolved in design.
Crafted to the highest accuracy in the history of saxophone mouthpieces. Designed by Theo Wanne, expert on the design and manufacturing of vintage and new mouthpieces.
MPN: GA3-TG8
FEATURES
Beautiful leatherette case
Rhodium plating with highlights on logo 
Includes two-point contact 24K Gold Plated Liberty Ligature and Alive Gold pressure plate
Patented Reed Replacer Cap
User-replaceable Bite Pads 
Inspired by the genius of Dexter Gordon."
Item:WWST0WT0.0WT0.02102.0-C0-L005