1925 Conn "New Wonder II" Soprano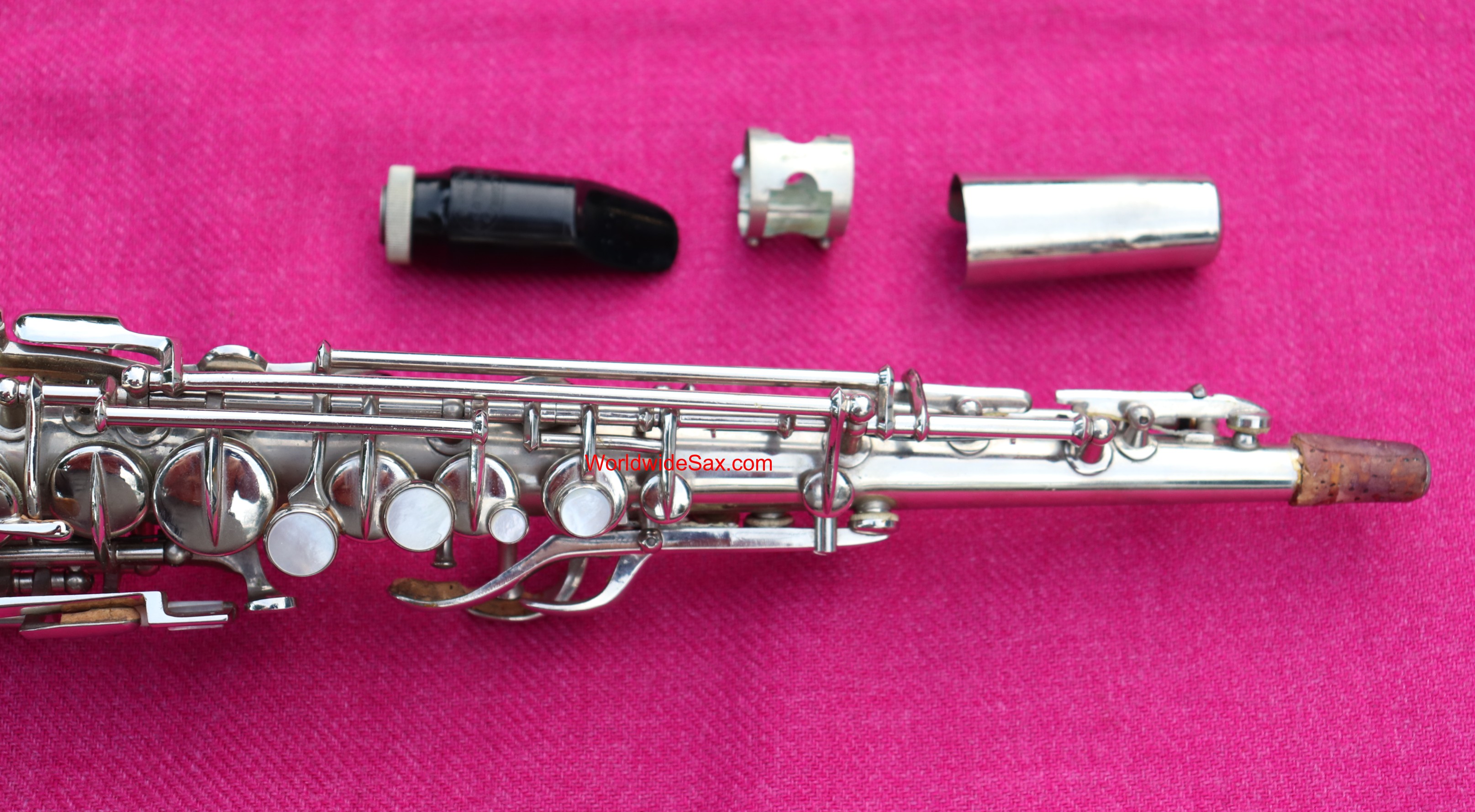 SALE Price: SOLD
Limited Time Sale!
Year: 1925
Make: Conn
Model: New Wonder II
Status: SOLD
Finish: Original Nickel
Serial Number: 165,897
COMBO SET: Sax, Mouthpiece, Ligature, Cap, Lyre - with original pads from the 1920s!
A beautiful, rare time-capsule find in original white pads without resos or even rivets! AND it plays! Plays OK/Good on 95 year old pads!
Keyed to F with the modern layout(!), Finish: Original Nickel plating is in excellent condition. This is the early era of the NW2 before the less desired "stretch" model came about. I know this will be a fantastic player as my #147k is amazing(*biased opinion).
CASE: Original case in beautiful condition to match.
MOUTHPIECE: Combo Sale for the collectors... Included is a Conn Tuneable soprano mouthpiece with ligature and cap. It is rubber and measures at 0.045".
*Due to the transitional era in 1925 from the New Wonder 1 to 2, I suspect that this will be very much more closely linked in sound to my personal 1924 Conn NW1 (in sound files below). It may actually be better labeled as a New Wonder I/II Transitional model like the many tenors that I've had around this serial number.
Sound File of Conn New Wonder 1 - Curved vs Straight
1.

STE-043SOP-ConnWondersCurvedvsStrt

0:57

2.

SOPRANOs-Keilwerth New King #54k, Martin Handcraft #51k, Conn New Wonder 147k, on Selmer Super Session mouthpiece, Sound File 11-2019

3.

Worldwide Sax

-

SOPRANOs-1988 Yamaha YSS-62Rii Purple 10,1xx, Yamaha YSS-62 Purple 10,8xx, Conn 1924 #147k, Mouthpiece-Selmer Super Session Sound File 3-2019

3:35

4.

1:19

5.

SOPRANOs-Conn1924WonderI_Yani-Buescher400-VIcopy1981_Buffet-SA18-20_1940s50s-2889

6:02

6.

SOPRANO-1924Conn_JKTheNewKing_KingMa

2:52

7.

SOP-ConnWonder,VI,KingMarigaux

1:40
Item #:WWS05.0W0.0W0.02212.0-C0