1972 Selmer Mark VI Alto, Medium Bow, with F#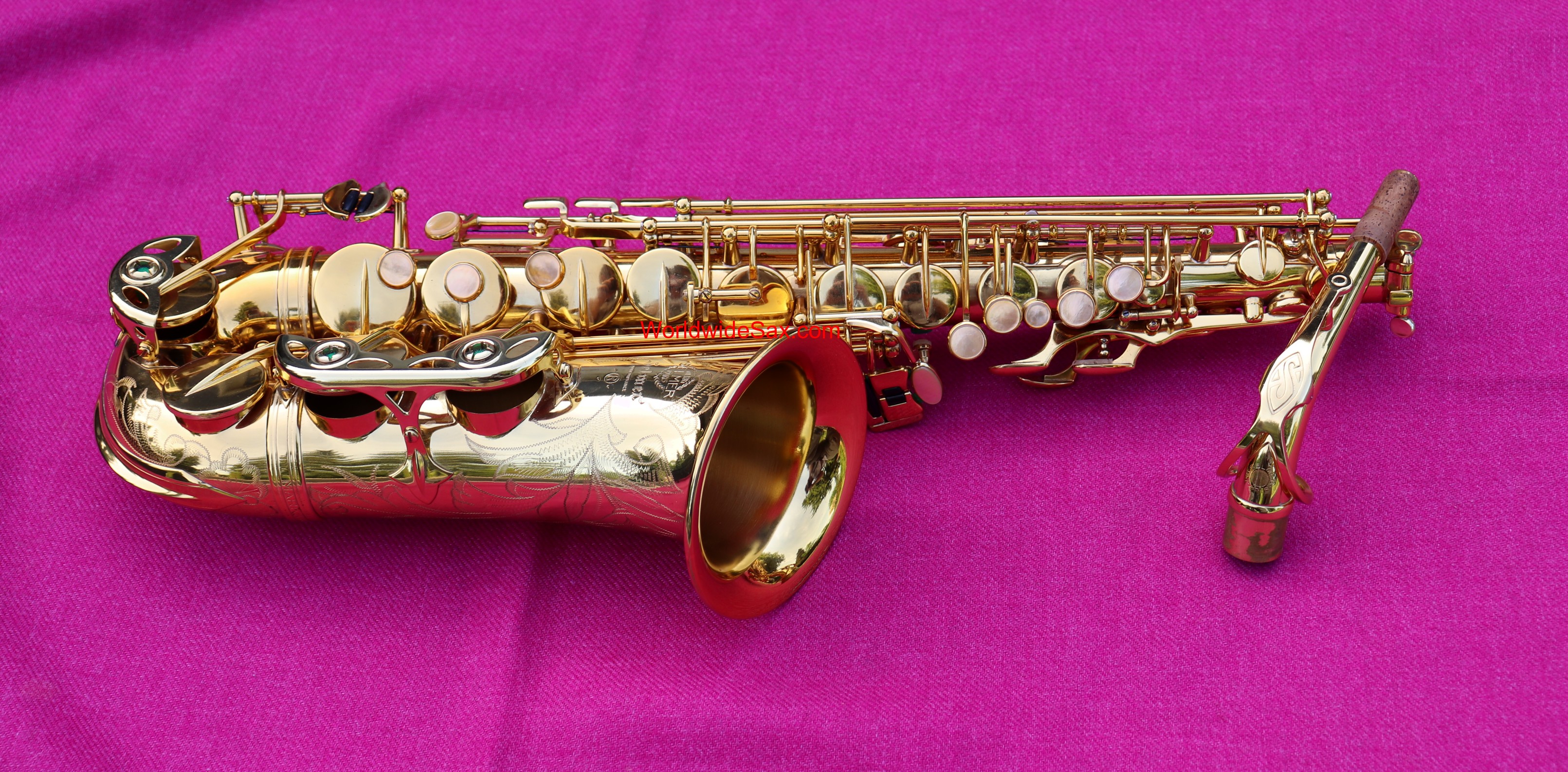 Price: $5,299.00... now $4,599.00!
Year:  1972
Make:  Selmer
Model:  Mark VI
Status:  For Sale!
Finish:  Re-Lacquered
Serial Number: 192,8xx
(On Consignment - Plays Great - recent WWS tune up)
Pretty Selmer Mark VI, medium bow, #192k, in great overall condition with high F#. The lacquer is highly intact and a very well done relacquer and the engraving was well preserved! It has a unique hue with a bit more orange in the mix and it really grows on me. It also has high F#. No Serial # on the neck. No major damage to report. The worst wear or discoloration can be seen on the Eb/C pinky touch points. Other sax history: It was owned by the last two owners (older fellow, and the recent owner: very good high school player) who both took good care of it.
The medium bow started on the earlier models (72k-88k, short bow prior) and later changed to a less desired long bow. This design is attributed to the better intonation especially affecting low C playability and surrounding notes. The medium bow has been considered the best design, thus Selmer returned to it along the Mark VI run.
Current pad set up is tan pads with plastic domed resos (standard for original, Selmer setup). They have a lot of life left.
CASE: It has a used, black protec in the rectangular shape. We can discuss the need to consider an upgraded, New Protec ProPac case ($184.00), rectangle with storage and shoulder strap. (see photos)
Sound Files on Mark VIs to enjoy:
1.

ALTOs-BLIND-4x: Selmer Mark VI #199k, The Martin Alto #169k, Olds Super #1319, King Zephyr Special #223k

6:11

2.

ALTOsBlind - VI-THC-ZephyrSpecial-Co

5:12

3.

ALTO-vi,super20,26M

1:51

4.

1:20

5.

ALTOs-101kVI_SDA_Superba1_THC

4:02

6.

ALTOS, SBA_VI_SDA

1:53

7.

1:43

8.

2:20

9.

ALTOS-VI_TMA_aristo1

1:47

10.

ALTOs-VI-BA-SDA-customZ

3:51

11.

ALTOs File: Sarge & Chadd playing hot... 5-Digit Selmer mark vi, vs. a #411k King Super 20, vs a Conn 6M (RTH), Sound File 2010

1:45

12.

ALTOs-B400_TMA_Vi101k

4:48
Item#:WWSCON-JN4W0.1W0.051019-C0