Selmer '130th Anniversary' Alto Sax
Limited Edition Adolphe Tribute Sax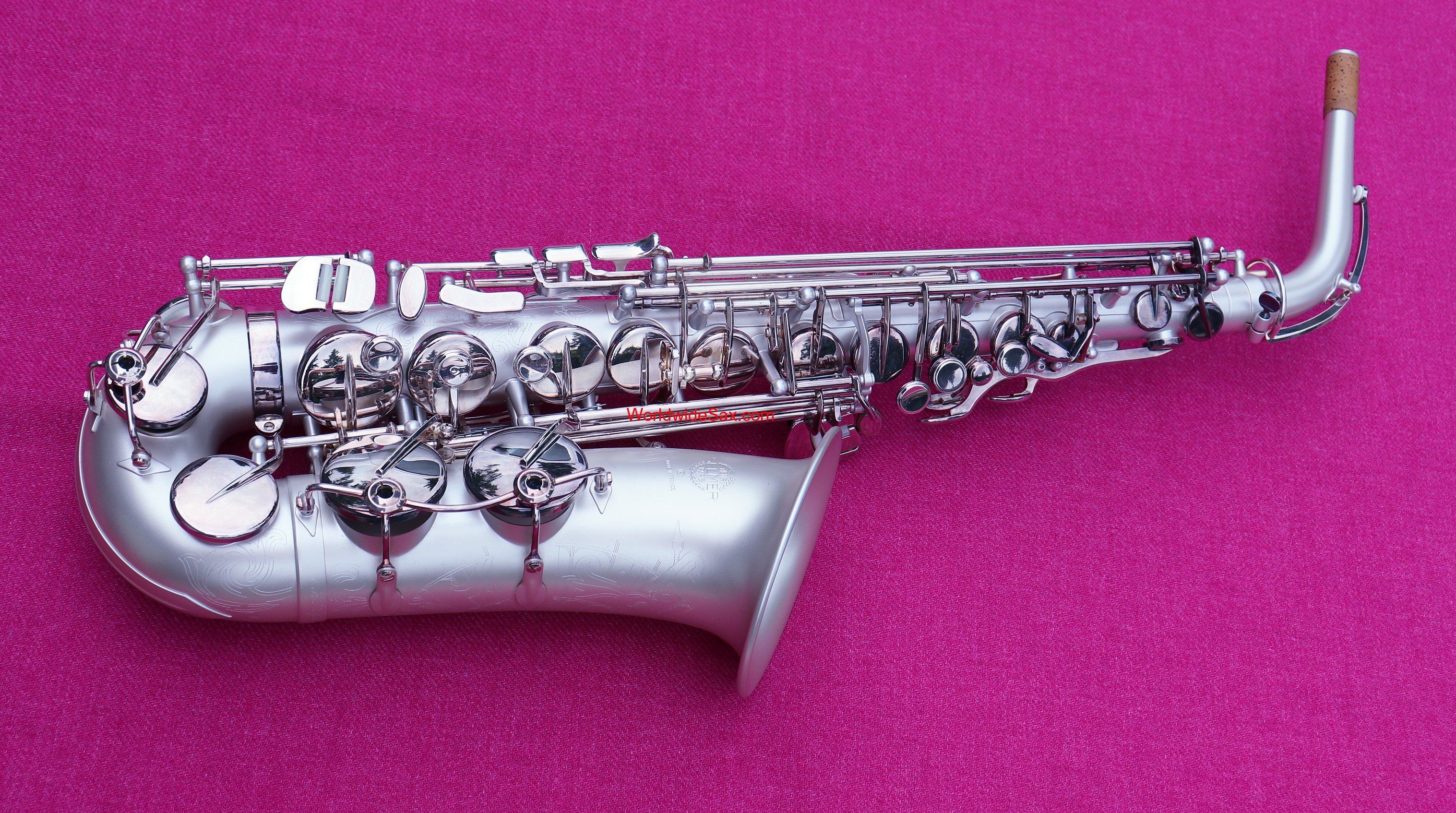 Year:  2015
Make:  Selmer
Model: 130th Anniversary Adolphe Tribute
Status:  For Sale!
Finish: Original; Pearl Lacquer Body, Silver Keys
Serial Number: N775286, "No. 130"
(Offsite Consignment, location: CA, USA)
Completely designed with a "VINTAGE" intent - Pads without resonators, a heavy lacquer to absorb treble tones - and engineering to blend vintage and modern aesthetics and function.
Note: this one is "n. 130" on the neck, as in: The #130 sax in factory the build assembly line. This is coincidence as it is also on the 130th Anniversary Model. (I've seen another with "n.444".) What a cool number trait on this specific sax.
This was adult-owed, used very very little, and preserved to 'like-New' quality. Comes with all the Selmer factory paperwork and tribute mouthpiece.
FINISH: The keys are silver plated and do tarnish as is normal. But with gentle care, they clean up to a stunning shine! The matte pearl color of the body may, by rumor, have crushed pearl in the mix. That is a nice thought to dive into more... The body does not tarnish, in my experience.
TONE via WWS words: "Focused, vintage, classical, mellow, sweetest tone". The sax is very quiet by comparison to the saxes of today. The tribute design has NO Metal resonators, only a rivet. Also the neck tube has no under-brace. With a little speculation on the tone enhancement of such, without that brace, sound vibrations will definitely echo differently. (Many very early saxes up until the early 20s, like Buescher True Tones, had necks like that. There were even a few lesser known models later on.)
It's very important to remember that, by design, saxes were to blend into orchestral music - louder than clarinets, yet not piecing or cutting like a solo act fighting electrified guitars . They were not intended to be as loud or cutting as some of our modifications in the body and mouthpieces have developed into over the last 100 years.
MOUTHPIECE: (Tone part B) It has a blended flare leaning more modern by design. The small round chamber was on many French mouthpieces in the 60s/70s and even the Selmer Super Session model in the late 1990s. With a body design like the S80 mouthpiece (small square chamber), it will produce a very focused, clean, classical sound for even tone and easy listening. I really love how they did this tribute... even down to the metal shank on the mouthpiece.
More info coming soon....
Here's Selmer's Tribute Video: