1963 SML Gold Medal I Tenor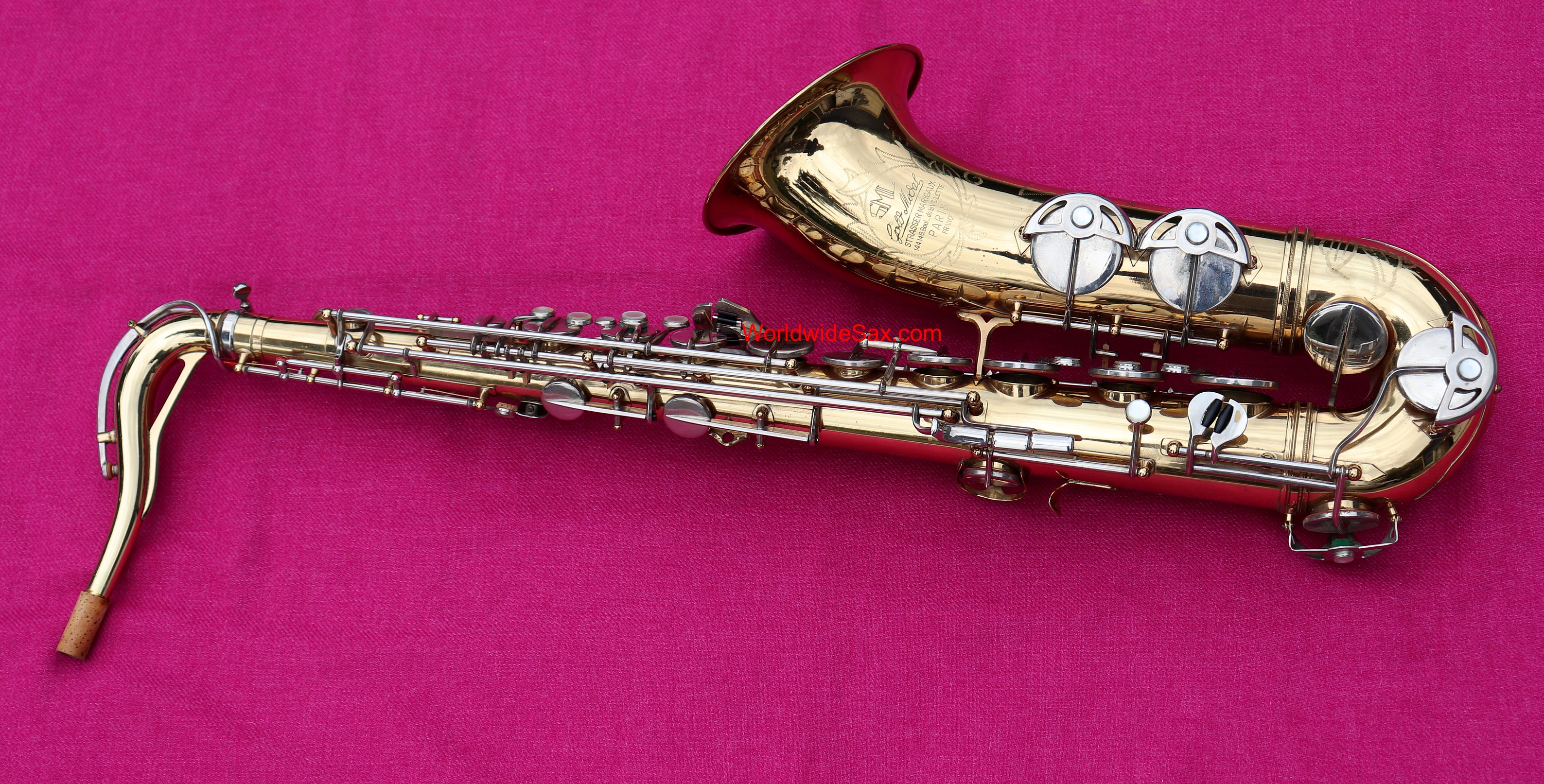 Year:  1963
Make:  SML
Model:  Gold Medal 1
Status:  For Sale
Finish:  Original Lacquer
Serial Number: 18,660
***Clean sax - Great pads - New Case***
A beloved SML GM(Gold Medal) 1 era tenor with all the features that are loved and sought. It is in great condition to match. These are a French brand with the tone of an American sax - Conn+King+Martin+Keilwerth(German). It has the huge, fat, SML tone during some of their best years. Original Lacquer finish at 97%. These are in the top 3 for BOLDEST tones and harmonics!
It is a very clean, original finish sax with very mild evidence of use. I see two small ding/dents on the lower bow, tiny dimples on a side of the neck, and a few scuffs on from a sax stand(?) on the bell(front only). I see no resolders! There is an added octave thumb rest add-on. This is a well-done, and wise add-on for the player! (I know, as an SML owner and lover.)
CASE: It arrived with a non-original wrap case. However, this one is so nice and I want you to keep it nice so I want to include a new, upgrade to a Protec XL . If you don't want it, we can adjust the price a little lower and it can ship in the simple wrap case.
Don't forget all the SML features like screw adjustments and "Articulated G# on/off lever" too. These do have a longer neck for positioning and a slight upward angle; both normal on this model.
PADS: It has newer, tan pads with modern selmer-style resos(domed metal with rivet). They show mild use but have many many years of life left.
Sound Files on other SMLs:
1.

TENORs-4x-SMLGoldMedal_Julius-Keilwerth-Tong-King-Special_BS-BlueLabel8378_Jupiter889-Meyer-6M-mouthpiece-Sound-File-5-2020

2.

2:30

3.

TENORSx3-2xMPCS-MarkVi_30M_SMLrevD-- 1

3:57

4.

2:00

5.

TENORS-SBA_Couf-s1_SML-RevD_Conn10M-

4:35

6.

TENORs-52Super20_51SMLrevD_50sLeBlan

5:15

7.

TENORs file: French Set: Selmer Mark VI vs. Buffet Super Dynaction (SDA) vs. SML Gold Medal - COMPARISON OF 3 FRENCH MADE TENORS

2:09

8.

TENORS-MPC, SMLs_SelmerClassic, Eagl

3:35

9.

TENORS-5x-10M_30M_THC_RevD_Magna_onW

6:11

10.

1:27

11.

TENORS-MPC, SMLs_SelmerClassic, Eagl

3:35

12.

2:23
Item#:WWSConSS3S2.4S8.00.04022.0-C0