Yamaha YTS-875 Custom Tenor Sax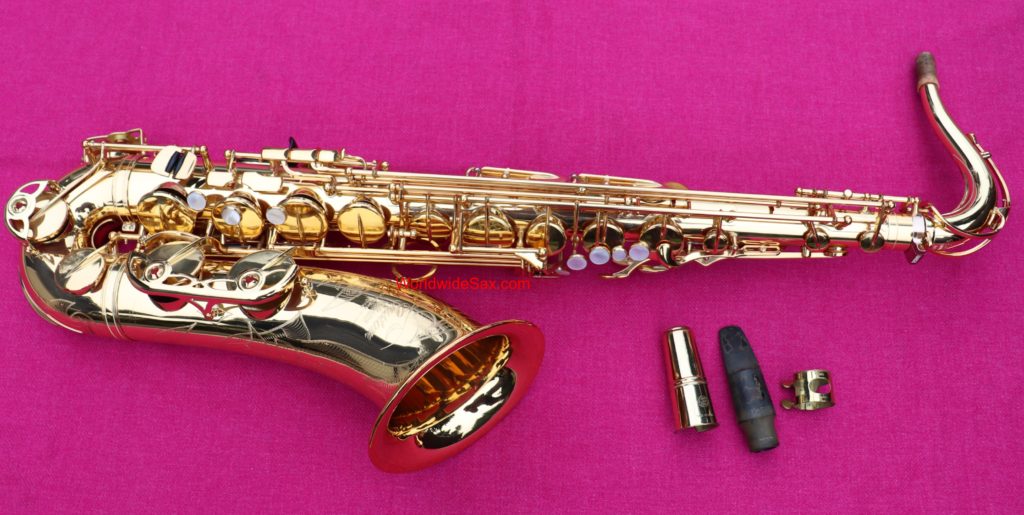 Year: 1990s(97?)
Make: Yamaha
Model: YTS-875 (series 1)
Status:  For Sale!
Finish:  Lacquer
Serial Number: 002,494
(On Consignment - Plays Excellent) Recent WWS tune-up in 2020.
A fantastic Yamaha pro sax with rich tone and fast ergos. There are plenty of opinions growing between the new 875iiEX model vs the predecessor (this 875). Both are great, yet you'll hear preferences toward each now. Seems like a Yamaha history repeat as with the model 62 "purple logo" gaining love vs the later Model 62ii.
This sax was well-loved by the original owner (ONE owner) and remains a rare pretty example; it was adult-owned. It received some repair work here at WWS in Dec. 2020 where it had 9 pads changed leaving a few mixed by age. All were changed to have Yamaha style plastic resos to match the original tone. The owner got it back and couldn't believe it how restored the sound was. It was easy to love it again, however, the owner decided to sell it only because they are reshaping their sound to a pursue a different model. The only 2 cosmetic flaws I noticed were the two, small, dings in the bell rim and a slightly cloudy look to the B bell key cup.
CASE: Yes - MINT Condition, original Yamaha hard case with locks, paperwork on the latches. This was preserved because the owner used a Protec case for year, never the original case. We even have the original shipping box here too!
I haven't seen another example like this paired with the original case paperwork and even the original Yamaha polishing cloth & neckstrap unused. This model has the M1 neck also.
BONUS: a used Meyer 5M mouthpiece is currently included. It comes with a blended set of brass ligature and a selmer metal cap. (~$90 value)
This is a great sax, and everything that it's supposed to be. It will not disappoint.
Sound Files on this Yamaha YTS-875 Custom ... coming soon
Item #:WWSConMC35W60.0W0.01202.1-C0