Bob's Page
I've been studying and working in conjunction with Bob since 2008 onward.
The Mouthpiece Mentor
World-Famous Guru out of Bothell, WA, USA.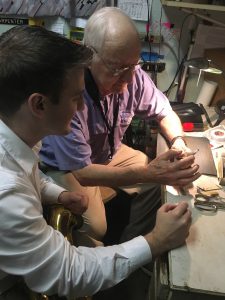 Bob Carpenter is one of the pioneers in mouthpiece refacing. He is regarded by many as a master, guru, expert & magician in the art of mouthpiece repair. Bob lives in Bothell, Washington, USA and is credited with starting many mouthpiece refacers in the craft, such as: Theo Wanne, myself and others.
He and Sarge were friends prior to me ever being around WWS. I know that Sarge studied with Bob also. I feel really blessed to be in Bob's confidence with his "tricks of the trade" and "ol' indian tricks", as he used to say. Maybe he liked me more as I butted back in with "hey, you know, I'm like 1/32 indian. You can tell me those things."
About Bob
We get a lot of questions about our old friend Bob Carpenter...
He doesn't work for WWS, he has a very successful business of his own, customizing, repairing and in many cases resurrecting vintage mouthpieces... when he's not playing music all around the N.W.  Bob got a lot of mouthpiece refacers started, such as Theo Wanne, who in turn, got others started later... "but no one does nicer work than Bob." -Sarge
Sarge has personally had work done by every pro-mouthpiece technician in the biz and always said Bob does the top-notch work with old-school ethics. ... aka: what you want.
Bob is a busy man and always in demand, but if you need mouthpiece work, i can pass your number on to him. Nope, he doesn't do email and his phone # is limited to friends. That's the skinny on Bob, the table below lists some of his technique.
A professionally, custom-refaced mouthpiece will almost always play better than a factory facing.
Bob Carpenter Mouthpiece Refacing
Bob's Process
The mouthpiece table must be flat at the curve take off point to provide a positive reed seal.
The facing length and curve must match the desired tip opening for the best response and playability.
Substantial changes in the sound and response can be made by working with baffles, chamber reshaping , wedges, etc.
But, first and foremost is the shape and length of the facing curve.
The workmanship should look professional and match that of the top vintage manufacturers.
Veteran mouthpiece technician Bob Carpenter, has been repairing and refacing mouthpieces for over 15 years and provided mouthpieces for a major portion of the professional sax players in the Northwest and well known players in other areas.
Bob has tracked and plotted the facing curves on hundreds of new and vintage mouthpieces from the top manufacturers as well as the refacing curves of many expert technicians. He measures the facing curves in 12 places instead of the usual 5 or 6 and plots these on charts for comparison and play testing by himself and other professional players.
Bob does amazing work!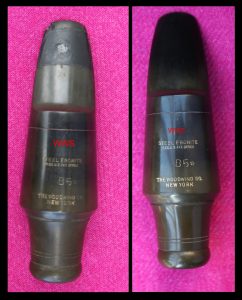 Tip Repair
Woodwind Co. New York, Steel Ebonite B5* baritone: HARD RUBBER, medium oval chamber. original tip was 089, I just got it back from Bob Carpenter -reface & repair- Tip @ 0.100" with 25mm facing length, and the "RAC" stamp! (the tip had a chip--Bob's work looks great as always!) And Bob even made the script gold. Sorry no ligature currently. Photo on RIGHT is "before repairs".
Item: WWS00.00.5191.4-B40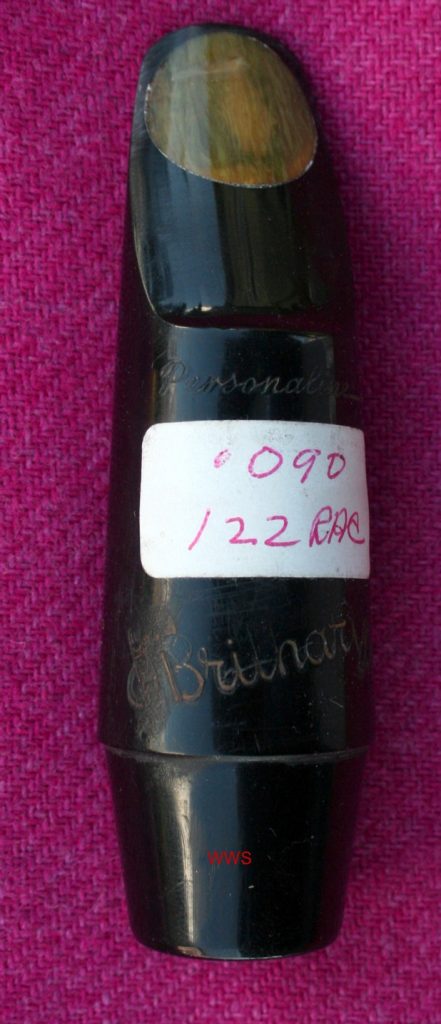 Tooth Pad Repair
Brilhart Personaline L4: Markings of "L4", ser# 7455. Hard Rubber mouthpiece with the Circle wood-grain tooth pad. Bob Carpenter did the minor perfection of the reface to a 0.090" and facing length of 22mm. He also filled the tooth groove. As usual, Bob's work looks excellent! This is a large chamber mouthpiece with a great sound.
Item:WWS1.63.50.9291.1-B45

The Woodwind Co., New York #6, brass tenor:
Here is another awesome, rare mouthpiece. heavy body brass design, ser# "X317". The white tooth guard had a bad tooth groove and I'll have Bob C fix that. This mouthpiece blows really well and the tip is 0.097" (after I perfected the seal--table leveling, tip sealed, with Bob's supervision). And since I love about a 0.097, this explains why i really like this one. These are often equated with Otto Links, however these have a smaller chamber.
This free-blowing mouthpiece comes with the original brass ligature and working nickel plated cap (not sure of original caps). These are commonly seen and sought after in the #5 and #7 so this one is priced very nicely at:
SOLD-- once you blow it, you'll not want to give it back!
Item: WWS00.00.8151.3-0-2C60BC30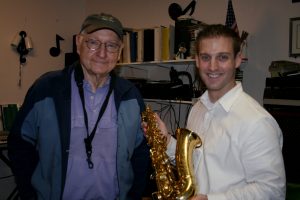 Sound Files
1.

TENORmpc-Hazlett,PersonalineL4,Perso

3:14

2.

TO EDIT TenorMPCs-4x-OttoLinkSlank08

4:09

3.
Want More?
Don't forget to preview our Mouthpiece Repair Page for more photos and transformations!