Only Saxophones History
Helpings Students and Parents Get Started Right.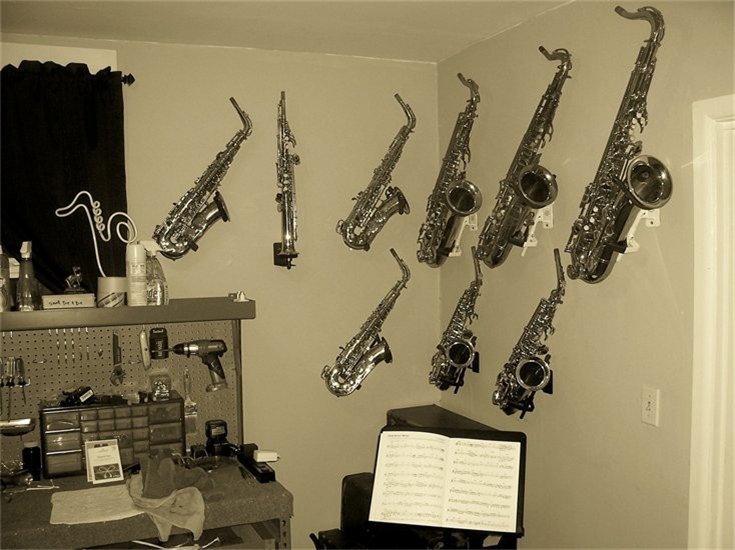 "Only Saxophones" (OS)
The Short Story:
I began selling student horns while I was a Band Teacher because kids would come to class after paying too much for a cheaply made 'instrument' that was really in need of repair to work properly anyway. So I decided to offer ONLY trusted brands in good-to-perfect working order so that you don't have to go pay out for unknown repairs.
(This originally started as a "for Local Washington customers only".
PHOTO:  An old location photo of "Only Saxophones"--humble beginnings out of my former residence. This was the second location as it grew.
Expanded Story
"Only Saxophones" was officially created in 2010 with the goal to provide quality saxes at worthwhile prices--ranging from Student, to Intermediate, to vintage/modern Professional models.
The same year I began studying under Sarge at WWS, 2008, I also became a Band Teacher for the Arlington School District at Stillaguamish Valley School, which is where I started seeing the problem with bad instruments showing up to class. I spent my days split between teaching at the school but mostly in the WWS shop through 2013 when I decided to focus fully on the shop. This left the summer months for my lessons with very limited students during the year. I owe my start to Sarge and it's been fun every step of the journey.
Only Saxophones originally started in my house and it slowly began to be more onsite and congruent with the WWS shop for ease of access and repairs.
The saxes here get repaired as necessary and I always disclose the work that has been done in their descriptions. Sometimes I will go through and do "PC" (Playing Condition) repairs--this is what would happen at any local music store... But I'm a saxophone specialist.
In 2015 it officially merged with WWS legally, and through other potential partnerships, began carrying a few other music-student items: talks of beginner clarinets, etc... Now I'll have to change the name!!!
Created to Help Parents
Whether you're looking for your child's first starter sax or you're looking to step up to an intermediate-pro horn, there are more factors to consider than you probably want to worry about. That's why Only Saxophones was created. I'm here to help you find the right sax for you. We'll take all the important aspects: price (which usually starts the search), but also quality, tone, reliability, intonation, ergonomics, ...etc. and come up with a plan.
One of my main goals is to inform parents and, together, gather information to put your money to its best use. Sometimes it will be best advised to Rent vs Buying.
Costs
To be honest it's usually going to be: $450-600 for an Alto... This is the best use of your money for a good, all-round starter sax that I've inspected and put into great playing condition. I don't mean to push any family away if that seems like a lot, so please contact me so we can talk it out. I have that guilty-teacher side that always wants kids to get the chance to play music.
Rentals vs. Buying:
If you don't know your commitment level, I recommend renting.
ALTOs ... starting at $35 month
TENORs ... starting at $45 month
...vs Buying (my target range)
ALTOs (450-650) ...New +$900
TENORs (700-1150) ...New +$1500
Scheduling
I still like to schedule visits during the week but I realize that can't work for everyone. I have started to reserve every-other weekend for special appointments (and I try to be very available as school starts). Saxophones that go un-played usually like a small adjustment after several weeks of sitting. So because of that, I ask that we plan out your requested visit. Once we set up a time, I recommend bringing any current gear you're using to compare.
Scouting:
If I don't have it, I will go find it! I am not fully vested in immediate sales. It is important that you buy THE proper instrument. That helps me sleep at night. Deposit required.
Step up with a great mouthpiece!
Another important aspect of the saxophone is the mouthpiece. If your 4th-6th year player has not upgraded yet, it is time. A good mouthpiece will improve tone, response and the playability of the entire saxophone! A mouthpiece controls 70% of the player's sound. So mom & dad, a mouthpiece is the most bang for your buck! ...and with care, they never really wear out. I got my first mouthpiece in 11th grade and my skills/love for music took off. I wish that I went and got it earlier...seriously!
Student Alto Lineup
Below is a sample of what our student alto line up can look like; 10 saxes on these first two rows. It's quite an upgrade from the original house photos!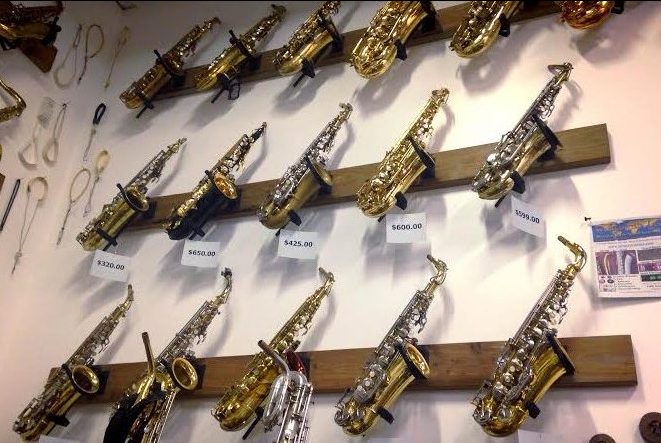 Sound Files
Student Tenors 3x +2 Others
1.

TENORs-STUDENT-1244-ST90-YTS23-575AL

5:25
I hope this helps you get started. Remember, I'm here to help. Please email me with any further questions.
Thanks, Chadd