It is amazing that even 10+ years after Sarge's passing, I still get nice emails from his former customers & friends.
I must thank you all for the overflowing of nice emails that only accentuate how much love we had for this amazing man. He had such a worldwide reach, whether or not you even had the pleasure to work with him as a client or friend--amazing ethics and a love of music.
Steve was my mentor and friend. I learned so much about saxophones, hard work and LIFE in general because of how we crossed paths. The least I can do is have a page on the website to honor him.
Respectfully, Chadd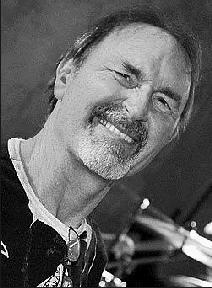 Steven Dean "Sarge" Stransky
"Father of World Wide Sax"
12-31-1950...2-9-2012
Thursday Feb 9th, 2012 Steve "Sarge" Stransky peacefully passed away after a +3 yr battle with brain cancer. If you consider he was given only 2 yrs, this was a WIN! He was in the company of family and close friends. It was the most joyous send-off I've ever seen with music-galore--mostly Beatles' songs.  There were many tears and a TON of laughter for this amazing man with great musical talents, repair skills and a great love for people! I will miss you so much, Buddy.
Rest in peace, my dear dear friend. ~Chadd
Steve's Autobiography
Written in his own words from the old WWS site.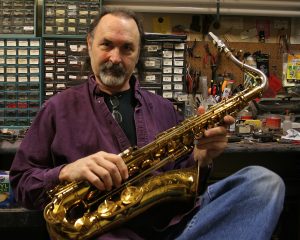 Ok, i get hundreds of emails, asking "Why Sarge?"... although I was in the service, my Sarge nickname came years later, (when I was in one of my favorite road bands) from my very good friend Hugo Taylor.  He tagged me with it and it has stuck for some 23 years. (CHADD NOTES: I found the photo for you guys!...a bad hair-cut can last a lifetime!)
WorldWideSax is  your resource for Vintage Saxophones and Mouthpieces on the world wide web.  We are vintage saxophone specialists and have a lot of experience with all makes and models of vintage horns.  Not many shops can boast rebuilding or restoring about 100 Vintage horns every year... we can.  Our goal is to bring you the widest possible selection, display as many as we can with accurate, quality pictures and descriptions and guarantee what we sell, to be as we describe it or your money back.  I created Worldwidesax to reach out and fulfill the needs of players all over the world and have succeeded in doing just that, in 23 countries so far.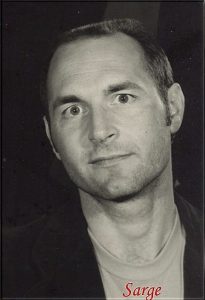 I use a combination of time honored traditional methods, as shown to me by a great retired local repairman who worked at the Conn factory, as well as a few other talented local repairmen who showed me some of the latest techniques, like custom pad jobs and  Teflon friction reduction.
Freshly rebuilt Vintage saxes are still the best buy on the market today. They play great and sound wonderful, and in each and every case, you have been listening to the great Jazz players of the 1920's-1960's on vintage saxes.  You can own many vintage professional horns for about the same price as a current student model.  The next time a salesman tells you intonation is bad, or you can't finger like, or sound like a pro on a vintage horn, ask him what he thinks the greatest players of all time all played on...
That's the WorldWideSax story...  As for me, I started playing Alto Sax in 1961, in the 5th grade,  and along the way I picked up blues harp, guitar/bass, keyboards, drums and Lead Vocals.  I turned pro right out of high school, in '69, then after over 10 years of road life I started to play part of the time and teach the other part... Then some more years of road life, finally in '85 I took a job as manager at Kennelly Keys Music's largest store, where I sold new and vintage instruments and had a little repair bench in back for 7 years.  I worked on everything, horns, guitars, violins, you name it, if it had to be fixed now, I fixed it.   I think this helped me to think creatively about repairs and to improvise.  I take pride in my work and also my work ethic and scheduling, you can count on me to finish on time.
My musician and road buddies all call me Sarge, my older friends call me Steve, i answer to both.  i love music and the music life... i know what you have to deal with...  pro or hobbyist,  i've done it too.
Thanks, steve.
Don't leave without seeing his collection!"
The Local Paper Obituary
"Father of World Wide Sax"
12-31-1950...2-9-2012
Steven Dean Stransky, 61, peacefully took his last breath on Thursday, February 9, 2012, ending a valiant three year battle with brain cancer. A musician and singer from a very early age, Steve became "Sarge" after arriving at a "Tight Shoes" practice having cut his long hair to a buzz cut. Sarge formed "Leaves of Grass", his first band, at age 16, in Chula Vista, CA playing saxophone, harmonica and singing. In the years since he has been in numerous groups including "Stumblin' Gold", "Canon", "Dillinger", "Bad Bees", "Tight Shoes", "Get Back"," Rudy and the Tubeshakers", "Strange Syrkus", and "The Phantoms". His saxophone skills were amazing and he played roughly ten instruments, yet saw himself firstly as a singer, and shared this gift with family and friends even on his last evening. A sampling of Sarge's music may be heard at his personal website, SteveStransky.com. Sarge was the founder of WorldwideSax.com, restorers of professional quality vintage saxophones, and built a far-flung reputation for meticulous craftsmanship, personal relationships with customers and impeccable ethics. He passed these qualities on to the next generation, ensuring the continuation of excellence. Sarge also operated a business providing sound for large gatherings, worked as a longshoreman and for many years taught saxophone and harmonica. Sarge is survived by his wife, Pamela (Smith) Stransky of Everett, WA; sister, Cheryl Stransky of Klamath Falls, OR; brothers, Dan (Margret) and Jim (Michelle) Stransky of Mount Vernon, WA and David (Bobbie) Stransky of Puyallup, WA; stepchildren, Nikki (Martin) Fritz of Port Orchard, WA and Christopher (Deyona) Furuheim of Vancouver, WA; six step-grandchildren; a number of uncles; nieces; nephews; and cousins; and a legion of dear friends. Sarge declined a traditional memorial service; instead, there will be a gathering on the beach near the Mukilteo Lighthouse, Saturday, April 21, 2012 at 2:00 p.m. In lieu of flowers, please consider a gift to Providence Hospice; or Compassionate Choices, which very kindly supports a person's right to choose.
How Chadd & Steve Started
I stumbled across the World Wide Sax website as a young sax player who was just 'going vintage' in 2008.  It didn't take longer than 2 minutes to become enamored with Sarge's work. You all know what I'm talking about!!! (See "Our Finest")
Out of sheer interest to maintain my three personal saxes, I sought out Steve to learn how to repair the saxophone. I studied with him for several months... never knowing that it would be more than me learning for myself--I only wanted to learn how to fix my own. It was a about seven months in that Steve said: "hey, so, you've been doing good work and i was wondering what you'd think about getting paid now." :::insert my smile/shock:::
Not even one year into my learning as a young apprentice, Steve had a stroke that revealed he had a brain tumor. I vigorously began asking questions more intently. I never pried so much before. In my earliest months in the shop, I didn't want him to feel threatened or annoyed by me, but now it was a matter of me soaking up all his vast knowledge.  Man!, this guy knew so much. I threw myself into studying saxophones: values, tones, repairs, finishes, market, thinking beyond. ...Steve mentioned one time that the Sound Files were my idea. I honestly never remembered but if he said so, then yes. I'll take the honor of credit for them.
Steve fared pretty well that next year after the initial cancer rush wore off. The second year was tougher. I was really double-checking every business thing over his shoulder to help with accuracy. Don't get me wrong though, he was still very capable. As that year was closing, we had serious talks about be buying WWS to keep it going. In January 2011 I became the official new owner. But to me, i said it like this: "This was still the same Worldwide Sax. Sarge is still here as a Consult and he gets to do whatever the hell he wants." haha, it was true except that he did still help with a few customer orders and his FAVORITE saxes to work on. He always liked to help others. ...just livin' a great, later life. Perhaps one of the greatest compliments he gave me was: "If I didn't think you could carry WWS on...well...i wouldn't have let you buy it. I would have sold it, in pieces if necessary." ...and he would have! HA! He was a stubborn, honest guy at times.
He was obviously losing different brain functions because his tumor was in the speech center of his brain. I became really good at finishing his sentences. As 2011 got deeper, he was in the shop less and less. I guess I'm thankful for the gradual decline of his presence rather than a shock-of-absence. I did spend LONG lunches up in the house with him though. There were many long lunches, one of which resulted in the Saxophone Comparison Chart.
My favorite Sound File archive shows our goofiness as a pair:
Sarge playing: SelmerC* vs OttoLink4***Master vs MCGregory Model A ...this makes me smile every time.
1.

TENORmpc--Cstar,Link4star,ModelA-Sar

1:37
That's pretty much it. I can tell you that his knowledge of saxophones was so ingrained that it never really left his abilities. I was always consulting him during his last months (digging for advice, and my personal effort to try and keep his mind sharp) and we even bought a few saxes over our sessions, only days before his last day.
I now have this important legacy to continue. And I love it.
Long live WWS.
Thanks for reading, Chadd
The early years of "Sound Files"(YouTube)
(We found that video distracted you more from the sax, plus the added work on our end. Thus, the creation of our Worldwide Sax Sound Files were born!)
More Photos
Family & Friends with Steve; him singing his heart out.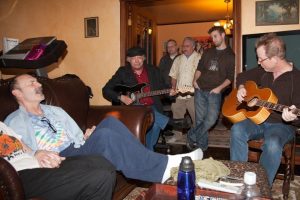 Pam (wife), Steve & Chadd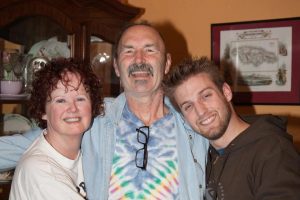 Chadd & Steve 9-2011 on a long lunch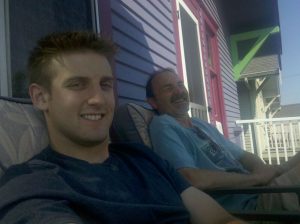 Steve & Chadd. 2-7-12 Roasting like cats on the sun deck.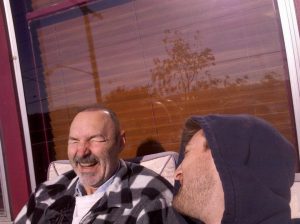 Chadd & Steve at pizza 2-3-12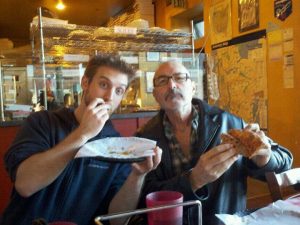 Christmas 2010 we donated our repair services on two saxes for "Sax-o-thon". Chris Hutter donates these to local kids in need and inspires more lifelong sax players.
Glad we could help!
Pictured: Mick Watson (local Sax-o-thon), "Sarge" & Chadd
Sarge around Xmas....I'm guessing 1999. One of his personal favorite horns of all time: his "Blackie" H.Couf Superba 1 Tenor first in line, followed by many other classics. Chadd now carries "Blackie" in HIS personal collection. :*)
"Sarge's Mouthpiece Collection Zone"
(Well, what remained as we moved to the new shop. He did sell a few.)
After getting finally settled in the new shop location in 2015, Sarge's mouthpieces gained a grand view from the sidewall. This is a late-era photo--Meaning: we did sell 10-20 over the last few years. This photo shows a pretty neat array even though it only displays 80% of what is lurking around the shop! (not pictured: FL Otto Link tenor, Link slant-signature altos, more "Brilhart hard rubber" tenors, ...Etc!)
You See that red-tip "Charlie Ventura Berg Larsen"? yea... that one is definitely gonna end up in my stash! HA