1926 Conn "New Wonder II", Curved, Soprano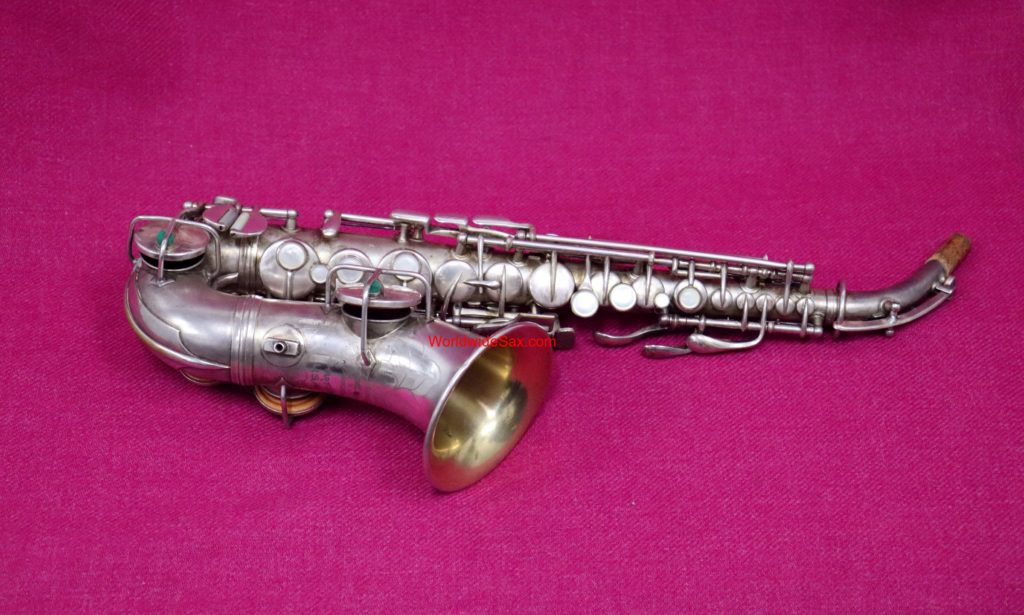 Year:  1926
Make:  Conn
Model: New Wonder II, Curved
Status:  SOLD
Finish: Original Silver
Serial Number:185,118
(On Consignment -- Plays OK, ask me about small tuneups)
A rare, Conn Chu Berry, nailfile G#, curved Bb Soprano! It is highly sought after!
Keyed to F with the inline palm key design. Finish: Original Silver with gold wash bell. There are only a few curved sopranos we can recommend. This is one! Having the high-F key and it being in great shape overall make this one to pursue. No major damage to report except that you will see a few resolders to the fragile key guards, and one solder mark on the octave key. The goldwash bell is in good shape and I will do some tactful polishing to add some 'zing' to its cuteness.
CASE: Original case in OK, functional condition.
BONUS: comes with vintage "King B" mouthpiece with a large chamber that is a great pairing for intonation needs; and upgraded, vintage ligature; as well as, what I think may be the original Conn mouthpiece cap. Consider this a $200.00 added value!
Sound File of Conn New Wonder 1 - Curved vs Straight
1.

STE-043SOP-ConnWondersCurvedvsStrt

0:57

2.
Item #:WWSConLS0W0.0W0.12281.9-C0