1953 "The Martin Tenor"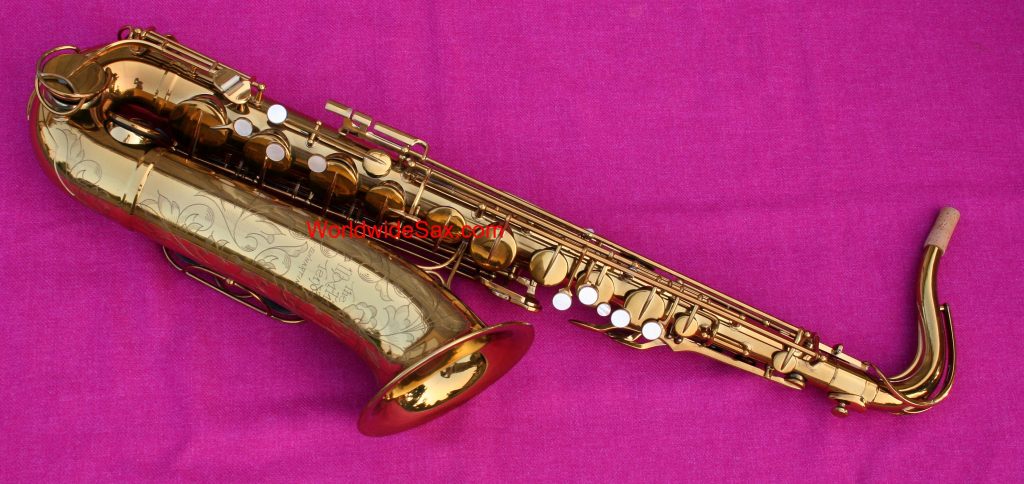 Price: SOLD
Rebuilt and ready to love!
Year:  1953
Make:  Martin
Model: "The Martin Tenor"
Status:  SOLD
Finish: Original Lacquer
Serial Number: 184,xxx
(Special Consignment - Plays Great.)
Wow - one of, if not, THE nicest, gorgeously beaming "The Martin Tenor" saxophones for sale in the world right now. It's rebuilt and ready to play! With a mid-range serial number era (1946~63), it is right in the middle era for tone (earlier is darker). It's gorgeous; I'll stop blabbing now.
COLLECTOR PACKAGE: Original Martin mouthpiece, ligature and cap, end plug, case key, and extra neck/hook screw.
REBUILD: Rebuilt elsewhere, it has black Saxgourmet kangaroo pads ($100) and Silver ResoTech Resos (Oversized, flat, $200+), and premium touches with teflon friction reduction.
TONE: It's a head-turner. You will definitely get people's attention; bring on the competition.
The tone is popping on this one due to the resonators; there is added crispness to the 'cutting ability' all while still completely filling the room with the [Martin Tone] that you may be seeking. (I'll try to get a sound file). It really reminds me of Sarge's "Official Music Man"; probably due to the same pad setup! You can hear the MusicMan below. Since this sax is so pretty, I'll point out 3-5 areas of age: The ping in the G key(pic "012"), the mini dent on bow by C# hole(pic "019"), the ding in the bell lip(pic "034"), the worn thumbrest, and the mark on the rear tube (pic "027"), marks from the neck screw entry/exit(pic "037").
CASE: original Martin case in excellent condition. The early era brown, wood case.
My photos don't do this horn justice.
Sound Files for you to enjoy:
This sax reminds me most of Track 2, Sax #4 (the Official Music Man because it has a similar pad-reso setup):
1.

2:22

2.

TENORs-TheMARTINx4_164korig(blackRoos,seamlessflatnickelResos)_166krelac(TanPads,domedBrassResos)_210kMagna(TanPads,flatNickelResos)_218kOfficialMusicMan(silverResoTech)

7:16

3.

Tenors file: Selmer MKVI vs. Martin Comm 2 vs. Martin Comm 3

1:37

4.

TENORx2-MPCx2--VIvsTMT, D7vs4starOtt

2:45

5.

STE-043Tenor-Vi,TK,TMT

1:38
Item #:WWSConsignMP-08091.7-98-0517