1952-53 SML Revision D
Previously in the Peter Ponzol Collection!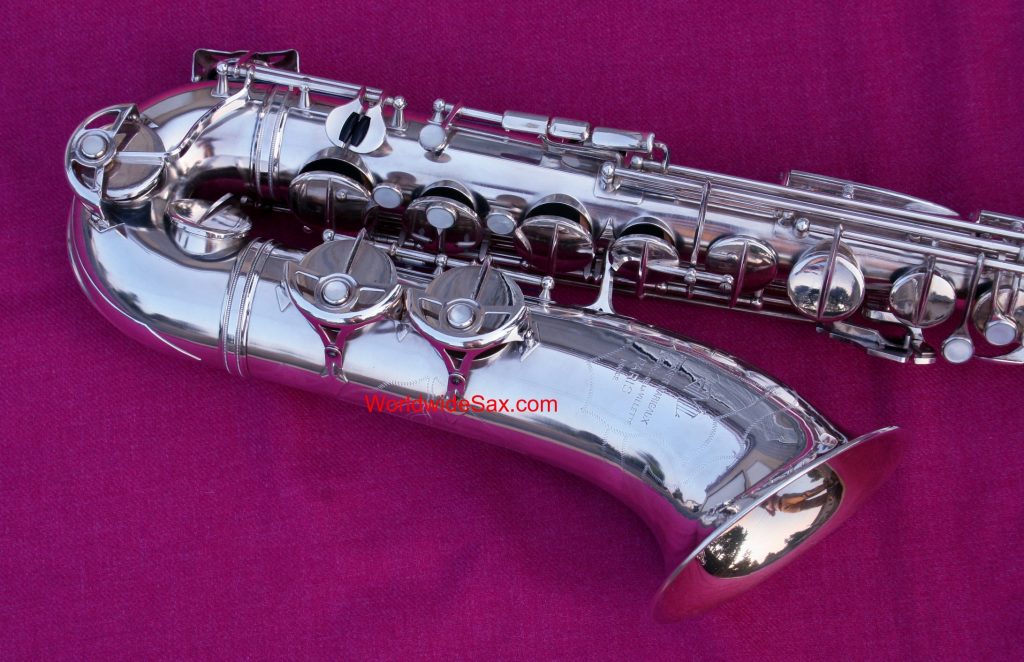 Year:  1952-53
Make:  SML
Model:  Revision D
Status:  SOLD
Finish:  Original Silver
Serial Number: 9,74x
(On Consignment - Plays Great.)
A stunning example of a Rev. D, previously owned by Peter Ponzol (with documentation), and the famous SML sound that people crave.
COLLECTOR PACKAGE: Complete set with original SML rubber mouthpiece, ligature and cap, and end plug. Also, there is a vintage lyre that is so unique, it's a new sight for me! I will definitely document it for the "Cool Stuff" area on the website.
I will honestly try to not write too much on this one. The photos should tell you all you need to know. ***However, I will say that there is that extra "it" factor in the tone when I play it - It's just special. (Bias note: I love JK's and SML's as I own and play a SML Rev D alto.)  There is only one negative to mention - and that is the small crack at the seam of the bell flare. Due to the horn's amazing condition, this must be a factory flaw and it is recommended to "leave it be". There are no dings and pings that jump out at me to mention. The neck looks excellent to match.
REBUILD: It was worked on at the MusicMedic Pro Shop for their high-end Rebuild in 2014 (before some key personnel changes - hint) and it plays fantastic. The work at that time was billed at $1,980. The workmanship is fantastic and the horn plays effortlessly. It was setup with black kangaroo pads, and seamless domed resos(slight dome). The springs are blue steel needle springs and the tension is "medium-fast"(via WWS). Notice the 'tuning corks' in a few toneholes on the low stack (F#-F-D).
CASE: original hard case in fantastic shape to match, green interior, sleek outside.
From the email correspondence with Peter Ponzol (6/2014):
"Hi [M], The SML was in the collection of one of my closest friends who died of Pancreatic cancer a few months ago[2014]. He was one of the best saxophone technicians I have ever known. Last year he sold off his collection so his wife would not have to deal with it. I bought it for several reasons. One of which was to play it at a memorial "celebration of life" for him. I then realized that this was the only reason I bought the horn and that I would probably never play it again. A music scholarship at a university was started in his name and some of the money from the sale will go to the scholarship.
So, that's the history of the horn. He had it for a long time and did the overhaul himself. When you see it you will realize that it has hardly been played. The mother of pearl finger touches are like new."
And just weeks before WWS expecting the horn (~8/2017):
"Hi [M], What I wrote is fine. Use any part of it. I might add that I have owned several SML tenors, mostly Gold Medal models and this is the best one I have ever played. I'm sure the way it was setup has something to do with it. Best, Peter."
Insert the WWS echo:  "I will say that there is that extra "it" factor in the tone when I play it - It's just special." -- Chadd (Bias note: I love JK's and SML's as I own and play a SML Rev D alto.)  
This one has already burned it's way into my memory. I know the new owner will love it just as much.
The photos do not do this horn justice.
Sound Files on other SMLs (Rev D & Gold Medal models):
1.

2:30

2.

TENORSx3-2xMPCS-MarkVi_30M_SMLrevD-- 1

3:57

3.

2:00

4.

TENORS-SBA_Couf-s1_SML-RevD_Conn10M-

4:35

5.

TENORs-52Super20_51SMLrevD_50sLeBlan

5:15

6.

TENORs file: French Set: Selmer Mark VI vs. Buffet Super Dynaction (SDA) vs. SML Gold Medal - COMPARISON OF 3 FRENCH MADE TENORS

2:09

7.

TENORS-MPC, SMLs_SelmerClassic, Eagl

3:35

8.

TENORS-5x-10M_30M_THC_RevD_Magna_onW

6:11

9.

1:27

10.

TENORS-MPC, SMLs_SelmerClassic, Eagl

3:35

11.

2:23
Item#:WWSConsMP-8091.7-MM14