1988-89 Yamaha 62R "Purple Logo" Soprano
The rare, original curved neck, single piece soprano!
Year:  1988-89
Make:  Yamaha
Model:  YSS-62R, "purple logo", Series II
Status:  SOLD
Finish:  Original Lacquer
Serial Number: 10,1xx
One of the top-10 most desired soprano saxophones, and a one-owner at that. This vintage, "purple logo" YSS-62R (series ii, see below!) - Serial #10,1xx, and bought new in early 1990. It's original lacquer is in very good condition and shows proof of use and very good care. Keyed to high F#. The pictures telling the story; this sax was owned by an adult player and loved well through college musical studies for the principle player. He since moved on with the family and the horn has been in the closet for 20 years.
(***see below, as these "notables" are often what people site about the series 1) Some reviewable differences on the newer remake of these point out the palm key touch positioning changes (tighter on this one), and the slightly higher side Bb by a tiny few millimeters. The comfort on this was instantly noticeable! The curved neck allows your neck to follow the common saxophone positioning and your arms will also love that.
***WWS RESEARCH REVIEW: As of March 2019, through all my research I have not stumbled upon anyone who noted that the YSS-62 "purple logo" had two different series. These purple logos had at least one change that I noticed. I am reporting that around serial number 10,000 there was the change to the low C# tonehole placement. According to the photos I could find online, the 3-digit and 4-digit models were all Series I. In era dating, I am guessing now, that the Series II 62ii and 62Rii were made in the last years of about 1988-90 (which is also the known estimated end date for the models). To be confirmed, this change may have been enacted on all 5-digit models ( and I've seen on 6-digit model with a zero start: "011,xxx"). The tonehole moved from the front center of the body tube to the rear, in line with the B & Bb. There are TWO versions of the Purple Logo 62  and 62R! WHAT?! How cool. I assume there are other differences worth researching, such as the placement of palm and side keys. Perhaps most intriguing to me is that you see the modern remake using this Series II version of the C# engineering. If that doesn't boost your preference in series I vs II, it's not just the Yamaha 82Z and 82ZR but also the Selmers and Yanagisawas. There must be an advantageous reason in tone and/or ergos that supports the major companies' designs. 
So there you have it - this is the more advantageous vintage, super rare, Yamaha YSS-62Rii "Purple Logo" Soprano.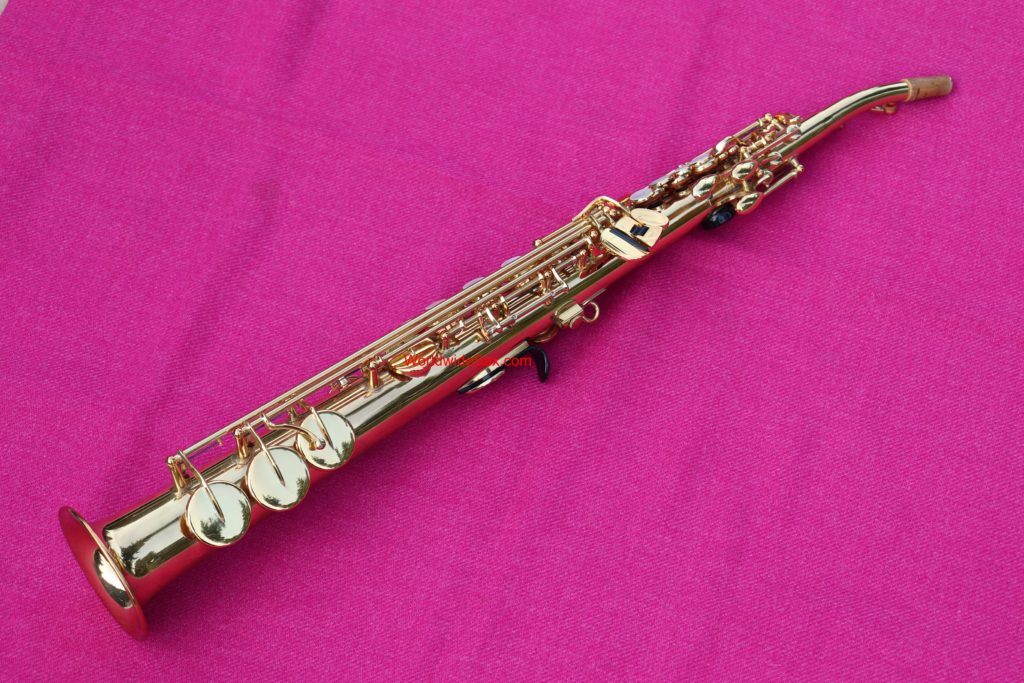 You a can see the Bb-B-C# inline in the photo above. The inline low notes are what make the Series II.
PADS, etc: It arrived as photoed with the original factory setup on pads etc. I would submit that this sax will last 1-10 years (about 3-5) with basic maintenance needs before the full rebuild would be recommended for your consideration.
TONE: It is 10% warmer than the straight option. Warm, clean, clear, hint of vintage and modern core tones. It does play very good right now and I spent some time testing it along with all the other sopranos in the WWS shop.  The vibe is "Warmth + Modern" on its tone and the ergos were instantly easy to use- I like it. (This is the older, deeper tone from the "purple logo" era.)
REBUILD: (Included) - TBD - It will get a WWS Standard Rebuild included and be a sweet soprano for your collection and enjoyment. You can order it and help choose the setup. However, left to my own methods, I would do a  similar setup as the factory original.
CASE: Two included - Original hard case AND a nice soft case (like a Reunion Blues).
SHIPPING: price will be Alto sax box sizing due to two cases.
Sound Files on this actual sax...
1.

Worldwide Sax

-

SOPRANOs-1988 Yamaha YSS-62Rii Purple 10,1xx, Yamaha YSS-62 Purple 10,8xx, Conn 1924 #147k, Mouthpiece-Selmer Super Session Sound File 3-2019

3:35
Item#: ConsignEM3W5.5W5.00.03281.9-C0