Vintage [sil-vae-lay] + Composite Bb Soprano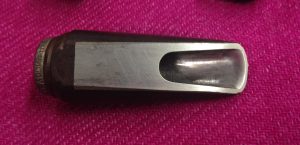 Make: Unknown
Model:  [Sil-Vae-Lay]/Bakelite
Number:  N/A
Era: N/A
Tip-Size:  0.052"
Facing:  WWS Reface
Ligature: No - Sorry, but ask.
Status: Sold!
Metal table and chamber, composite body and tooth pad. -- semi-rounded(thick table) inner chamber into a Medium Chamber Throat. It arrived with tiny factory tip (0.024!)and damage. WWS had refaced the tip to: Tip measures 0.052".  Don't forget the tighter shank on the neck cork like an early Buescher. Now has good seal and plays great!  Currently no ligature yet.
Related terms: Sil-Vae-Lay, Bakelite
SOUND: Crisp, clean and focused.
Item: WWS0E0.00.1271.6-C60