1965 JK "The New King" Bb Soprano
Year:  1965
Make:  Keilwerth
Model:  The New King
Status:  For Sale!
Finish:  Original Nickel Plate
Serial Number: 54,xxx
serial # 54xxx  <--- !!!! , original nickel in excellent condition, WWS premium rebuild ($1049) 2005 by the Sarge ($priceless)with black roo pads($70), and teflon and ultrasuede throughout. It has the inline palm keys too like the earlier design. It's not a Couf in design, but they are linked by lineage--Grover Washington Jr. sound.
CASE: Original hard case.
It Comes with original case in good shape AND a "Bari" brand mouthpiece($+70).
You're talking $1,200 of input at-cost already into the sax!
Sound file to enjoy:
1.

SOPRANOs-Keilwerth New King #54k, Martin Handcraft #51k, Conn New Wonder 147k, on Selmer Super Session mouthpiece, Sound File 11-2019

2.

SOPRANO-1924Conn_JKTheNewKing_KingMa

2:52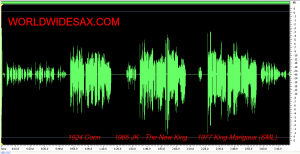 Item#: WWS-ConsignmentSchmidt