1937 Conn "Connqueror" 30M Tenor
Year:  1937
Make:  Conn
Model:  30M, Connqueror
Status:  SOLD
Finish:  Original Lacquer
Serial Number: 279,93x
(On Consignment--PLAYS pretty decent on older pads. ) 
A rare sax in fantastic condition. Original lacquer and original case. Silver touch points are in excellent condition - all are intact. Also, all of the Conn 30M adjustable levers are present too.  The older pads are the only thing to mention. Please scan the photos and contain your drooling. The tone is rich, sexy, smooth and wooing; it has power when you ask for the volume too.
Only minor wear & tear to report are the dings and pings that happen from use and sax stands (minor waviness/denting on the bell and small marks on the back side.) There is one resolder that I found: the octave key guard on the body.
The other neat extra is the photo of the original owner in his old band photo.
CASE: original Conn case in ok, vintage-worn condition. Functional case. We should treat the case for a lingering "vintage smell" - from storage.
PADS: older pads with plastic resos.
BONUS: There is also a Conn Steelay #5 mouthpiece included. It's hard rubber, with a large chamber, and a 0.060" original tip. there is plenty of rubber material there alto to open it up in a refacing. Comes with what looks like the original ligature and cap too.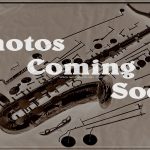 Sound files of 30Ms:
1.

Tenors file: Selmer Mark VI vs Couf Superba1 vs Conn 30M , Sound File 10-2011:

2:44

2.

TENORSx3-2xMPCS-MarkVi_30M_SMLrevD-- 1

3:57

3.

TENORS-5x-10M_30M_THC_RevD_Magna_onW

6:11
Item#:WWSConJL.0S0.0S0.03.151.9-C0