1956 "The Martin Tenor"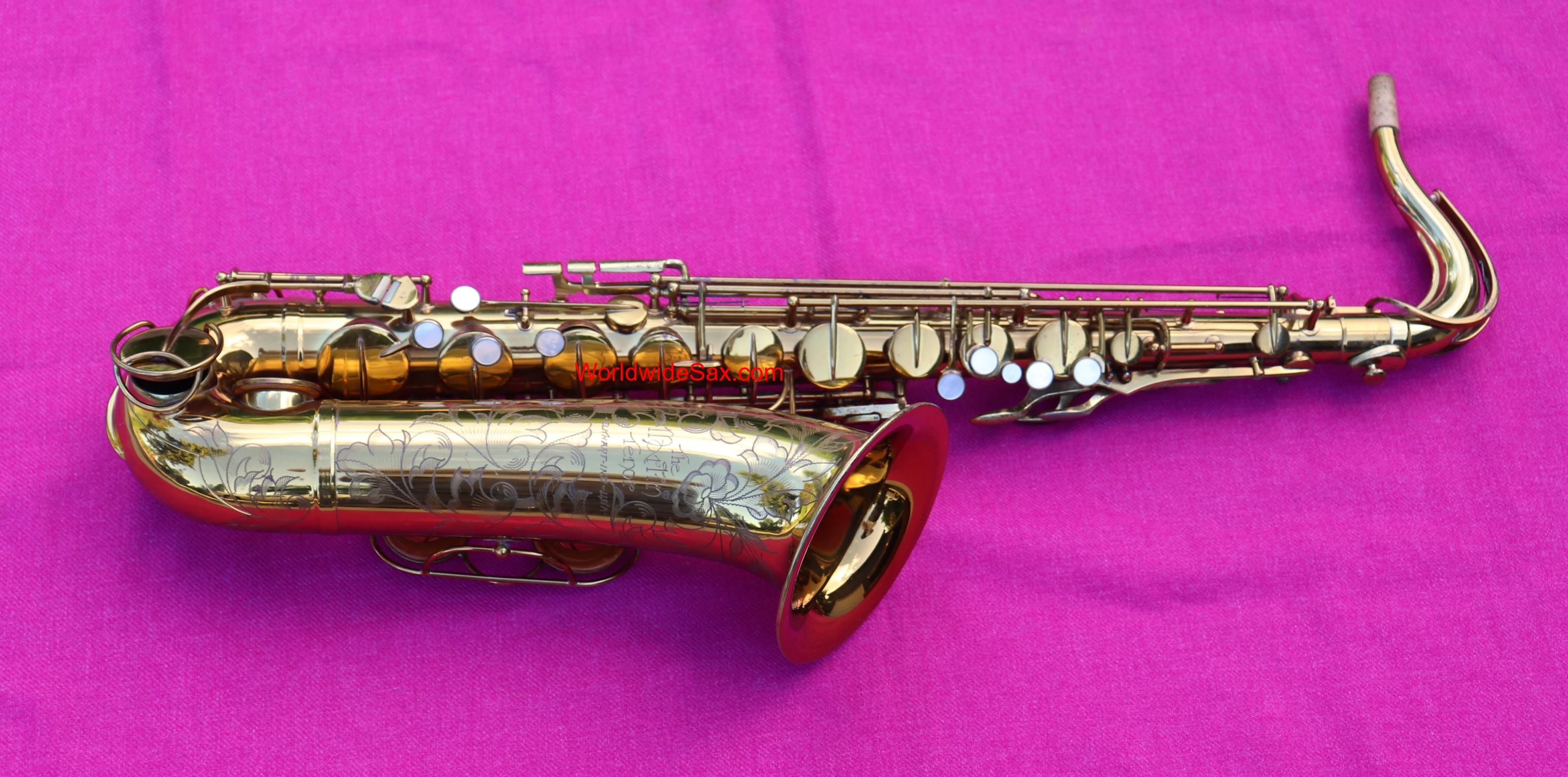 Price: $2,799.00 ... $SOLD
Year:  1956
Make:  Martin
Model: "The Martin Tenor"/Committee 3
Status:  SOLD (VI)
Finish: Original
Serial Number: 200,25x
(On Consignment - Plays on old pads!)
A rare, original beauty. It has matching serial number on the neck and minor pings on the back bow. The sax has a beautiful color and caused me to look really hard at the originality. Even with the neck in a slightly different hue than the body, which has a deep hue with more orange in the mix, it has some original pads, and enough original brown the felts prove the originality for me.
The sax is very clean and the photos will support that. To add to that, the case is in fantastic shape to match.
CASE: Original Martin Case in excellent condition. Missing the clarinet insert.
REBUILD: Sax is being sold 'as is' or you can order a rebuild for a discounted addition (save -$200 off the rebuild cost). About 7 pads have been changed from the original at some point (Side C, Bb, low Eb, palm keys...).
Martin Sound Files for you to enjoy:
1.

TENORs-4x_Conn Chu New Wonder II #243k, Keilwerth Tone King #37k-Plastic wF#, The Martin Tenor #166k, Conn 10M #H42k, on an early Berg 105 boat tail, Sound File 10-2017

6:45

2.

2:22

3.

TENORs-TheMARTINx4_164korig(blackRoos,seamlessflatnickelResos)_166krelac(TanPads,domedBrassResos)_210kMagna(TanPads,flatNickelResos)_218kOfficialMusicMan(silverResoTech)

7:16

4.

Tenors file: Selmer MKVI vs. Martin Comm 2 vs. Martin Comm 3

1:37

5.

TENORx2-MPCx2--VIvsTMT, D7vs4starOtt

2:45

6.

STE-043Tenor-Vi,TK,TMT

1:38
Item #:WWSConNR2S0.0S0.07082.0-C0