1969 Selmer Mark VI Tenor #167k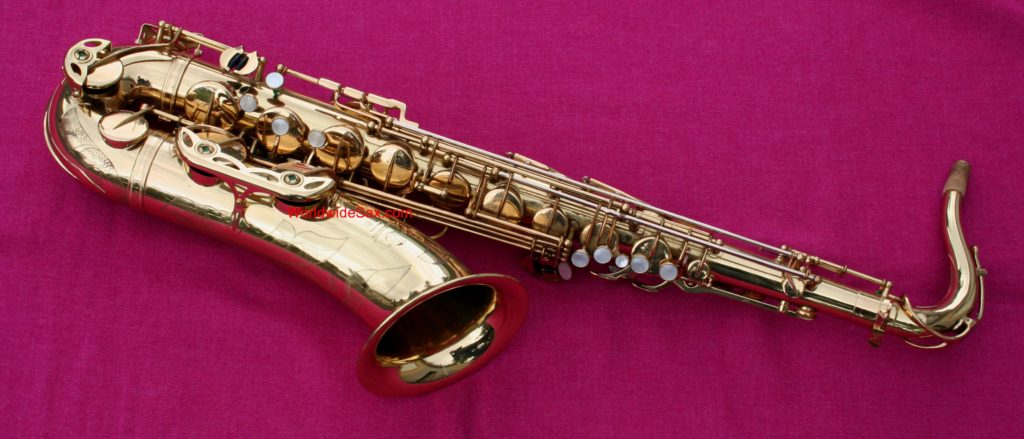 ...More Photos coming soon...
Year:  1969
Make:  Selmer
Model:  Mark VI
Status:  GONE
Finish:  Original Lacquer 92%
Serial Number: 167,9xx
(On Consignment - Plays Good!)
Another pretty Mark VI. Unique rear engraving & Ser #167k, ORIGINAL FINISH at 92%, with 50% original pads. It is a "Euro" model with such engraving, however no high F#. Kept mostly in the closest by the current owner (his backup sax... yea, you heard that right!). It a gorgeous example that I know you'd be proud to call your own. Blue ink "S" in good condition, and serial number etched inside the neck which is typical for many Euro models (not outside).
For such a pretty horn, there was area to mention: the rear body tube shows the scratches and wear in the middle, the metal thumbhook had been pushed into the body slightly, and there is wear below that near the serial number. There is also some marks in the upper tube by the tenon (to be looked into more); Otherwise, the sax is very very clean.
CASE: The original case is in excellent condition also, inside and out. The latches are firm and strong.
PADS: Currently being listed and sold 'as is'. The upper stack pads (G and up, & palm keys) look like they have been changed in the last 15 years. The lower pads pads all look like factory originals. All pads have plastic resonators.
Item#:WWSCON-HR5W0.1W2.4281.8-0