Vintage Selmer scroll "D" Bb soprano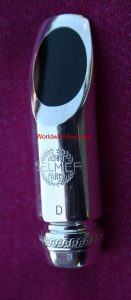 Make: Selmer
Model:  Scroll, metal
Number:  D
Era: 1960s+
Tip-Size:  0.052"
Facing:  Original, WWS Enhanced
Ligature: No - Sorry, but ask.
Status: Sold!
This is a very well-loved soprano mouthpiece. It is silver plated brass and in good shape. Tip measures 0.052" after I fixed it. I noticed there was a ding in the tip so I will repair it and silver plate the repair. It already played well before I made the fix but the repair will perfect the tip seal. (teo pictures are of it side by side a Tenor version of the Classic; they do tarnish but you can see I made this one come alive with some love!) Comes with the original ligature and sliding cap!!! since some of the other tip sizes are commanding +600.00, this will be appropriately:
SOLD - consider that the facing has been improved from factory errors!
Item: WWS0.00.8151.3-0-2C60
Sopranos Sound File on this mouthpiece:
1.

SOPRANOS-VI-Saxello_TippedBell

3:26