1966-67 SML stencil Gold Medal:
REYNOLDS CONTEMPORA Tenor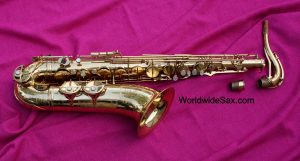 Year:  1966
Make:  Reynolds (SML)
Model:  Contempora (Gold Medal 1)
Status:  SOLD
Finish:  Original Lacquer
Serial Number: 19,577
Here is a true SML build with the stenciled name branding. This specific detail will save you about $2000, but your sound will be identical to your SML craving ears. Serial #19xxx dates it to about the 1966-67 and the Gold Medal 1 era. Translation: Huge, fat, SML tone during some of their best years. Original Lacquer finish at 97%. Negatives: a few dings and pings that I'll burnish out; two on the neck, about 3 on the back bow, and the pants guard will bend back to 'straight'. I have no doubts that these will clean up nicely and only show a bit of past work. The neck tenon was resoldered. I can help clean it up, but it was done pretty well.
CASE: original hard case in good working order, has seen owner-mods with screws.
Don't forget all the SML features like "Articulated G# on/off lever" too.
This one has yet to be rebuilt but it completely deserves "The Sarge Special Rebuild"--Premium with larger resos (Resotech! $250). Once it's set up, I guarantee you will turn heads and slay a few Selmers (PS-I love SMLs and am very tempted to keep this sax in my personal stash).
Sound Files on other SMLs:
1.

2:30

2.

TENORSx3-2xMPCS-MarkVi_30M_SMLrevD-- 1

3:57

3.

2:00

4.

TENORS-SBA_Couf-s1_SML-RevD_Conn10M-

4:35

5.

TENORs-52Super20_51SMLrevD_50sLeBlan

5:15

6.

TENORs file: French Set: Selmer Mark VI vs. Buffet Super Dynaction (SDA) vs. SML Gold Medal - COMPARISON OF 3 FRENCH MADE TENORS

2:09

7.

TENORS-MPC, SMLs_SelmerClassic, Eagl

3:35

8.

TENORS-5x-10M_30M_THC_RevD_Magna_onW

6:11

9.

1:27

10.

TENORS-MPC, SMLs_SelmerClassic, Eagl

3:35

11.

2:23
Item#:WWS1.S0.0S0.4181.6.0