1928 Silver Conn New Wonder II Tenor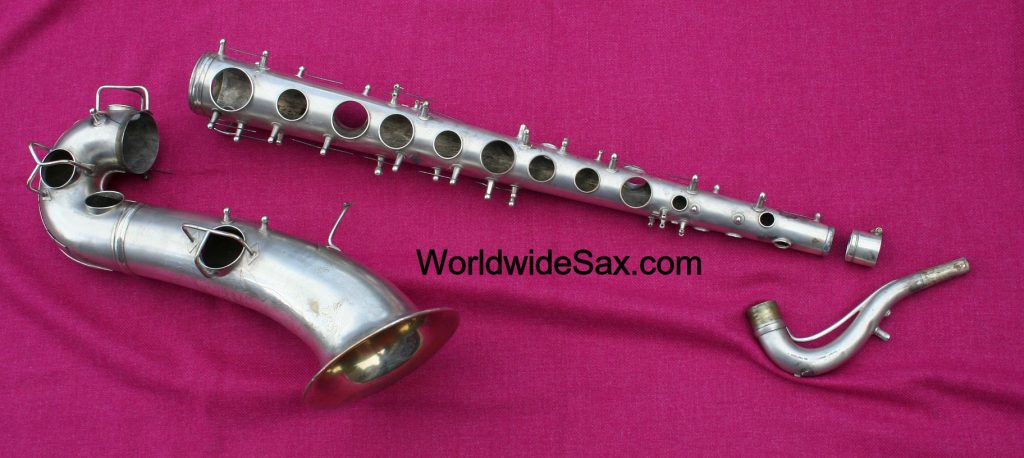 Price: $3,499-4,999.00
ON HOLD - REBUILD PENDING
(Price depending on your custom modification requests)
Year:  1928
Make:  Conn
Model: New Wonder II
Status:  ON HOLD, Rebuild pending
Finish: Original Silver plate
Serial Number: m211,4xx
OK!, this great sax that has seen better days. These are great players, so I wanted to make it someone's perfect gig sax! AND improve the cosmetics! Slightly abused, but nothing major. LET'S MAKE IT AWESOME.
Named: "Hotrod" for all the custom things we had planned on this sax, Ser.# m211,xxx. another great sax in original silver, with gold wash bell (in good shape) with nailfile G#, rolled tone holes, everything we love. Overall it's in good condition with minor wear only on a few key tops and rods! Upon initial inspection, there was one main 'damage story' in its past: the lower edge looks to have taken a knock, the bell-to-body brace needs resoldered, the rear body tube will need aligned to the bow (de-soldered damage), and address the front knock, address dents to the high palm keys, messy solders, remove the unnecessary lyre holder, The Front F rocker arm went missing but I'll fabricate a replacement of some sort (if not, replace it with a spare one!). Just call her by Name: "Hot Rod".
Now, if you've never played a Chu or NW2, they are stunningly powerful tenors...big fat sound top to bottom. Ergos are not that great, but I know a lot of players that play them in spite of the 20's design and would never switch to a Selmer.
CASE: It will get a new case. You can help steer that investment.
WWS SPECIAL CUSTOM PROJECT - "Hot Rod - The Super Gigger":
~White Roo pads
~Resos: to-the-max sized Silver Resotech resonators--3mm shy of the tone holes! (ask me if these are available).
This will be a stunning sax cosmetically, but I want it to make the guitar
players turn their ears!
Other ideas:
~New Selmer Thumb hook?
~upgrade the octave KEYWORK (See progress photo).
~NEW case
~selmer key guards???
~fabricating keywork?!?!?!? ... "project"...
Available, In Progress
At its current rate, it will end up on "Our Finest" for the [fun] things we're doing!
Item #: CONSD10W.0W0.00.01311.8-C0