1940 King "Zephyr Special" Alto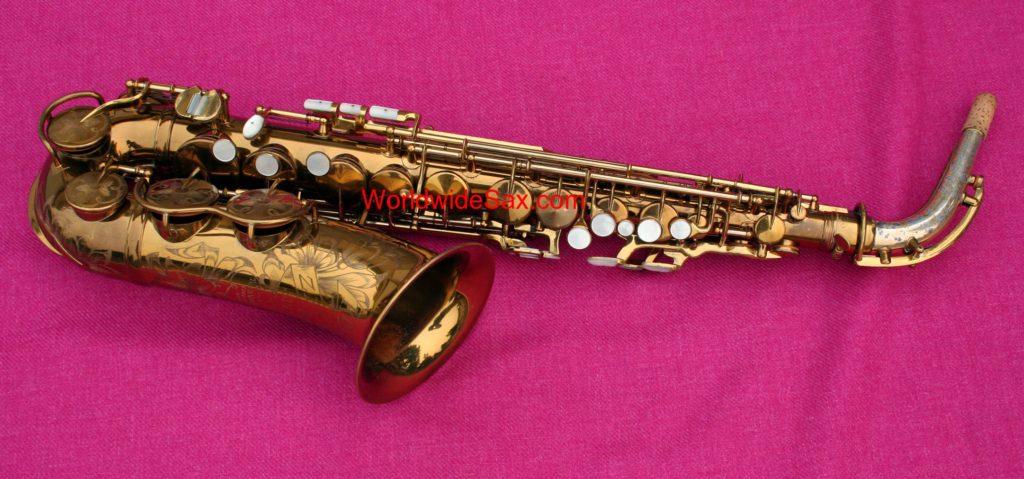 Year:  1940
Make:  King
Model:  Zephyr Special
Status: SOLD!
Finish:  Original Lacquer, Silver Neck
Serial Number: 223,12x
(On Consignment - Plays Great!)
Collector Alert!: Original Sax, with "Zephyr Special" mouthpiece, case, and endplug.
Original lacquer finish at 95%, Full Pearls in great shape, triple neckstrap ring, and Silver Neck model! These are a transitional link between the Zephyr-Super 20 era (super 20s starting around #272K). Matching serial number 223k on the neck and body, I really like this model. These have many zephyr traits but also some traits that are unique to only the Special model.
This ser# is early in the production run and, thus, it has all 5 keys engraved with the [starburst] on this model (affecting the keys only). I've seen some with all 5 low keys, some with 4, some 3. It does have a few scratches shown in the photos. No known resolders to mention. You may notice the two different hues of lacquer (bell vs bow), and I have seen this before on Super 20s; I see this trait as fully original.
I love Kings; and these models surely hold their own for those with a good ear.
CASE: Original case in great condition. (missing one corner of leather cap)
PADS: Rebuild elsewhere with tan pads and plastic resos (vintage Selmer style).
Sound Files to enjoy:
Track 1: Actual Sax! "Blind test"...
Track 2: Sound File - ALTOs x4 "Blind": Random order: '51 Buescher 400 "Top Hat", '44 King "Zephyr Special", '37 Conn 6M-VIII, '70 Selmer Mark VI
1.

ALTOs-BLIND-4x: Selmer Mark VI #199k, The Martin Alto #169k, Olds Super #1319, King Zephyr Special #223k

6:11

2.

ALTOsBlind - VI-THC-ZephyrSpecial-Co

5:12
Item #: WWS-ConHC8231.7-98