Theo Wanne "Custom Mantra" Alto Sax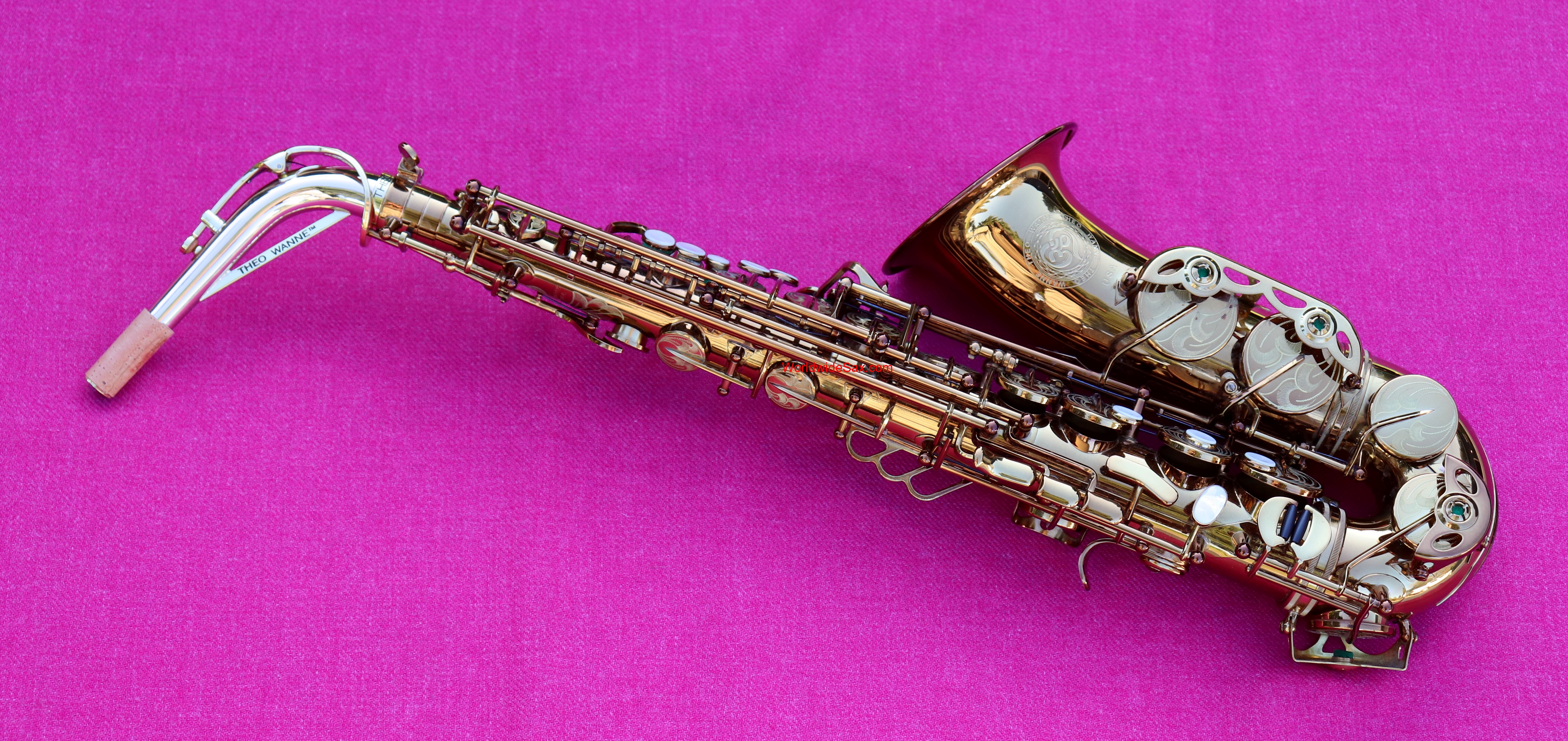 *I still feel like I haven't captured the proper color in the photos. It's so dark & beautiful.
Year:  2017-8
Make:  Theo Wanne
Model:  Mantra 2 - Prototype
Status:  SOLD
Finish:  Original Lacquer
Serial Number: 10,002
Here's your chance to have a one-of-a-kind sax! It is the successful prototype of Model 1 to Model 2. It has all the old and new innovations in one sax, with a little extra engraving embellishment as well as its own sweet, dark lacquer finish. It is a Mantra 2 in disguise with Mantra 1 cosmetics.
I'm thoroughly impressed with the airflow technology that allows for more volume without going too shrill. The keywork is modern and fast with blue needle springs.
It has the 3-point bell brace(for strength and sound), titanium neck tube (for response, also with reticulated interior!), 3-strap ring, and engravings on all key cups for a powerful look. This specific sax also has the branding inside the bell ring and, as expected, the ornate outer bell engraving. It also has standard pearl color pearls (not black, abalone... etc.) for a classic look.
I got this directly from Theo, you know ...secret-stock-from-the-back-room type... and I can see this as the prototype to the Mantra 2 that is out now ($3,995).  Here's part of the alluring words straight from Theo to me: "This is a Mantra Alto, the only one ever made with dark gold lacquer and engraving all on the body, keys, etc.  Our normal mantras don't have all of that. So this is a special horn. It also has the modern solid titanium neck. It is brand new, though has a couple spit marks to wipe off just from my test playing." If that doesn't tell you enough, the "#10,002" should be the clue. Mantra 2 is only in the Vintified finish, whereas this one is in a nice, dark lacquer.
CASE: New lightweight case as seen in pictures. Shoulder strap inside.
PADS: MusicMedic.com chocolate roo pads with metal resonators that are gold domes with rivet. They are in good condition and show the minor play-testing usage.
Due to the mild use, we must label it as a Floor/Demo model and, thus, a reduced price from the Retail New postings.
Current retail description via WWBW.com for Mantra 2:
[It...] comes with a special titanium alloy neck with innovative taper creates easier altissimo and improved intonation. Of course it also comes with kangaroo skin pads from Music Medic in NC, USA.
The MANTRA has many other innovations and features. The bell-to-body brace has three fully captured points of contact with the body. It is far stronger than a traditional brace while allowing for previously unheard of freedom.
FEATURES
This is a BIG sounding horn
Can sound like a vintage Selmer, but will take more and more as you blow harder too
Perfect for all types of music you wish to show expression in
Based off of vintage saxophone phonics, and updated with modern technology
Designed by Theo Wanne, the foremost expert on the design and manufacturing of vintage and new mouthpieces and saxophones
SPECIFICATIONS
Finish: Available only in Vintified Finish with Gold Lacquer Keys
Set-Up: Kangaroo Skin pads from Music Medic, the USA's foremost saxophone shop
Brace: Three point bell-to-body brace
Reticulated Interior: Creates Boundary-Layer-Effect
Titanium Neck Tube: Sonically superior, effortless altissimo, great intonation
Sound Files ...pending: ...
Item#:WWST1S5.7S9.82.01082.0-C20